I've been waiting for Michael Edwards's Perfume Legends II in the same way that Star Wars fans anticipate the new sequels. First published in 1996, Perfume Legends told stories behind more than 40 iconic fragrances. Edwards explained the inspiration behind the concept and the bottle and also left room for perfumers' voices. Why did Edmond Roudnitska add an opulent plum note to Rochas Femme? How did Jacques Polge create the baroque effect of Chanel Coco? I read and re-read the book so much that my copy fell apart.
Edwards, however, wouldn't rush the sequel. Respected in the industry for his Fragrances of the World database that assiduously tracks every new launch, he brought the same meticulousness to the Perfume Legends project. He decided to update the list, and so he spent several years researching information and interviewing perfumers, creative directors and designers. The industry can be frustratingly secretive, especially when it comes to explaining the perfume formula, but Edwards has never been daunted by such obstacles. The book reveals it all.
Perfume Legends II contains the entries included in the first book, plus 8 new fragrances representing the most innovative creations of the last decades. Explaining what makes a perfume a legend, Edwards says that it should have an accord so innovative that it inspires other compositions, an impact so profound that it shapes a trend, and an appeal so lasting that it transcends fashion.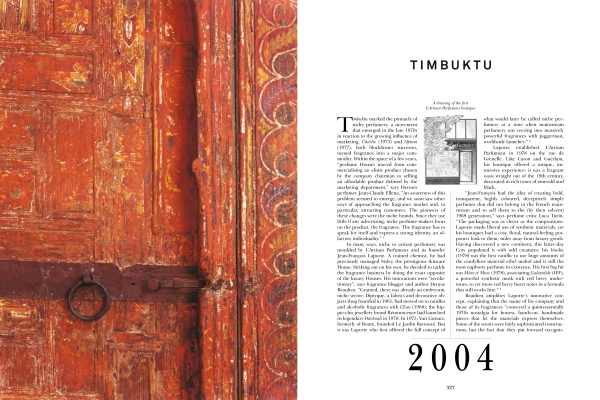 Among fragrances included in Perfume Legends II is L'Artisan Parfumeur Timbuktu. The book explains how perfumer Bertrand Duchaufour was inspired by nagarmotha, a natural raw material from India that combines the darkness of vetiver with the richness of agarwood. "It's the dark side of vetiver!" says Duchaufour. "When you use nagarmotha, it makes vetiver seem sweet by comparison, almost as sweet as sandalwood. It's great for reproducing an oud effect alongside other products." Details like this will make any perfume geek swoon with pleasure.
I also enjoyed discovering in Perfume Legends II how Serge Lutens describes fragrances. When he came to Quest International (now incorporated into Givaudan) with a brief for Féminité du Bois, Yves de Chiris, Quest's senior vice president gave Lutens 120 different ingredients to smell. He tried each and described their aromas. As Chiris reminisces, "he compares a fragrance 'to a set of chords, not a mawkish series of harmonies. It is the emergence of a note, electrified by its collision with the following one, a chain reaction. In text, this is called the syntax, and sometimes this produces poetry. If we combined, helter-skelter, all the notes of Mozart's Requiem, do you think we would come up with a masterpiece, just because we used the same notes? Or, taken randomly, do you think the words of Proust would produce the extraordinary emotion of The Search? When carefully selected, the marriage of two or three essences, whether natural  or synthetic, upsets and redefines the expression of a composition. In themselves, when taken alone, they are no more than ingredients.'"
Those familiar with Edwards's work will find the same attention to detail and the same richness of information in the new book. Those discovering it for the first time will enjoy its collection of essays on perfumes that marked the 20th century as well as inspired ours. Either way, it's a long overdue publication.
"There is no other book like it," said Edmond Roudnitska, the creator of Dioressence, Diorissimo, and Eau Sauvage of Perfume Legends. It's hard to disagree with the master.
The website Perfume Legends is offering a promo code for a 10% discount to Bois de Jasmin readers–BDJ19, valid until December 31 2019. If you've read the book, I'd love to know your thoughts.