Her golden hair, her pearly skin, and her melancholy face emerge out of the shadows. Bathsheba, an Old Testament heroine desired by King David enough to conspire the murder of her husband, has been painted by many artists, but few have rendered her beauty and her story with as much nuance as did Rembrandt Harmenszoon van Rijn.  As Rembrandt's Bathsheba holds the fateful letter from David summoning her, she is torn between the loyalty towards her spouse and the need to obey king's command. The duality pervades the entire work, from the subject's moral dilemma to the drama of the light and shadows.
Born in 1606, Rembrandt remains the emblematic figure of the 17th century Dutch Baroque, and his remarkable use of light continues to beguile. As this year marks the 350th anniversary of the artist's death, museums around the world stage exhibits devoted to his works. The Rijksmuseum in Amsterdam presents his paintings alongside other Dutch and Spanish masters such as Diego Velázquez, Frans Hals, and Francisco Zurbarán.  The Dulwich Picture Gallery in London focuses on his masterful use of chiaroscuro, highlighting the theatrical effects of the Baroque style.
With so many occasions to admire Rembrandt's mastery of light, I found myself imagining the olfactory world of his paintings. Perfumery is also the art of light and darkness, of materials that evoke different colors and sensations. When I was writing a version of this article for FT's How to Spend It, The Scent of Rembrandt's Light, I thought of Jacques Guerlain (1874-1963) and his masterpieces like L'Heure Bleue, Shalimar and Mitsouko. L'Heure Bleue, for instance, is a marvelous example of the Rembrandtian chiaroscuro with its contrast between radiant orange blossom and dark musk.
Rochas's Tocade and Hermès's 24 Faubourg reminded me that Maurice Roucel is another perfumer able to create dramatic effects. It's not a coincidence that his fragrances are often described as baroque.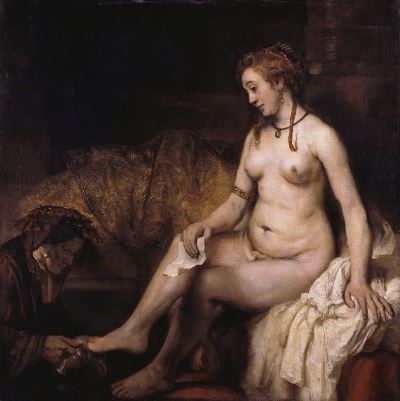 Likewise, fragrances by Annick Ménardo such as Bulgari Black, Lolita Lempicka, Guerlain Bois d'Arménie would fit the theme. Ménardo's Le Labo Patchouli 24 is one of the most radiant perfumes, and yet it remains dark and somber, creating a striking contrast.
What you find close to Rembrandt's chiaroscuro in perfumery. What captures the scent of The Jewish Bride, the painting used as the title image?
Paintings: Bathsheba at Her Bath, 1654 :: The Jewish Bride, c. 1665 – 1669. Via wiki-images, some right reserved.