One of the most quintessentially Ukrainian embroideries is called rushnyk (pl, rushnyky), richly decorated hand towels that accompany a person from birth to death. In two videos that I recorded, I would like to show you rushnyky embroidered by my great-great grandmother. I discovered them by accident when I was cleaning out our shed and spotted a large chest hidden under old rugs. The drawers were jammed, but I persevered and opened them only to discover decaying paper and mouse droppings. I rummaged in it–no, I'm not even one bit squeamish–and I found the embroideries. I cleaned and restored them and it's a pleasure to share them with you.
My great-great grandmother Pasha wove the cloth on a hand-loom, and she then decorated it. These embroideries are at least 70 years old, and yet they are remarkably resilient.
The design also holds its own mystery. At the end of the 19th century and beginning of the 20th, a French perfume company, Brocard, opened a soap factory near Kremenchug in central Ukraine, not far from Pasha's town. To entice women to buy their soaps, Brocard included an embroidery pattern. The trend for Brocard style embroidery swept over the villages as women tried new motifs and patterns.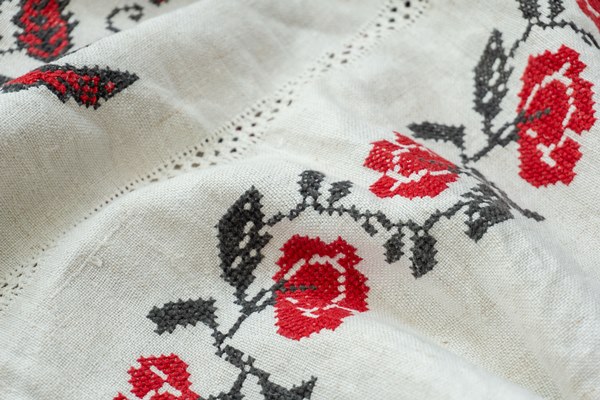 While the simplistic cross-stitch replaced the more complex traditional techniques, it made embroidery a beloved local art easily accessible to all. Embroiderers adapted French style flowers and vases to Ukrainian motifs and created their own patterns.
This grape festooned rushnyk from 1960 is one such example.
That's how influential a bar of scented soap can be.