Cherry blossoms may be the flowers most strongly associated with Japan, but the peony is another beloved bloom. If you visit Tokyo in late spring, you can spend your days wandering the most beautiful peony gardens. The most striking peonies are the ones called botan in Japanese, or tree peony. They indeed appear as if they're growing on trees, and their flowers are much larger than the more familiar stem peonies known as shakuyaku. Their colors, textures and, of course, scents vary dramatically.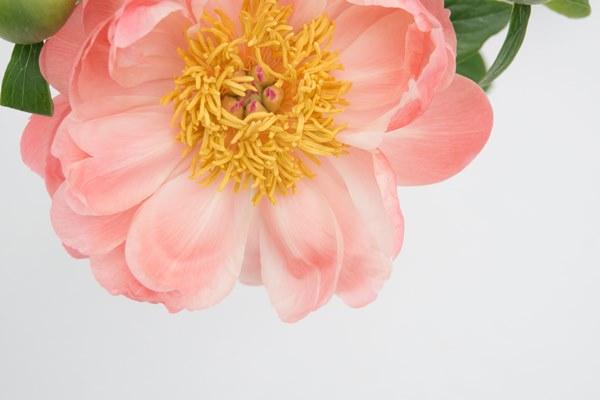 So I've selected several fragrances that use peony in different ways, ranging from fresh and light to dark and warm. I also would like to share several favorite spots in Tokyo where peonies are displayed in all of their splendor. While going there is not possible for most of us, we can still admire the photos on line and dream up our perfect peony perfume.
L'Artisan Parfumeur's Dzongkha
Perfumer Bertrand Duchaufour used an accord of peony to build up the opening notes of his composition and complemented the peony's radiance with cardamom and lychee. While the drydown of Dzongkha is dark and velvety, rich in leather and incense, the shimmer of peony and the cool touch of iris keep the composition airy.
Stella McCartney's Stella Peony
Peony blended with mandarin and patchouli, vibrant and effervescent.
Berdoues's 1902 Pivoine & Rhubarbe
A peony plucked after a rainstorm.
Acqua di Parma Peonia Nobile
Elegant and plush, this peony is inflected with rose and berries.
Parfum Satori's Black Peony 
In Japan, peonies symbolize elegance, honor and bravery, and for a fragrance that likewise combines refinement with self-confidence, Parfum Satori's Black Peony is my choice. Black Peony peels back the gauzy petals to reveal that the most opulent of spring blossoms has a smoldering heart.
Ueno Toshogu Shrine
Ueno Toshogu shrine is a Shinto shrine located in Ueno Park. It was established in 1627 and dedicated to Tokugawa Ieyasu (1542 – 1616), the founder of the Tokugawa Shogunate.  Its peony garden is open every year between New Year's Day through mid-February and mid-April through mid-May. Much care is taken about the arrangement and the display of flowers, and each shrub has its own parasol to protect its delicate beauty. Entrance fee is 700 yen.
Peony Garden of Tsukuba
It's worth making a train journey from Tokyo to the nearby city of Tsukuba in Ibaraku Prefecture to see its splendid Peony Garden. The collection counts more than 550 different varieties of botan alone (and more than 200 of the more familiar shakuyaku.) My scent notes listed aromas as varied as lemon peel, green tea, strawberry jam, wood, clove and leather.
April 18–May 22, 2016
500 Wakaguri, Tsukuba City, Ibaraki Prefecture, Japan (Tel: 029-876-3660)
9am–5pm (Last entry 4:30pm)
Adults 800 yen, Children (middle school and younger) 300 yen (20% off for groups of 20 or more)
Nishiarai Daishi Sojiji Temple
Nishiarai Daishi is a temple of the Shingon Buzan sect founded in the 9th century. While it's worth visiting for the ambiance alone, its peony gardens are magnificent. The flowers are planted in different parts of the complex, so stroll around slowly and take in their beauty. This itself is a spiritual experience.
1 Chome-15-1 Nishiarai, Adachi City, Tokyo 123-0841, Japan
Do you have any favorite peony fragrances?
Photography by Bois de Jasmin