Do you like the smell of green tea? This morning I wanted to write about a completely different topic, but I brewed a cup of Japanese sencha, unfermented green tea, and I lost myself in its scent. This particular tea smelled of seaweed and violets, and it lingered on the palate as sweet, tender, velvety. I understood then why so often green tea accords are interpreted as combinations of the violet-redolent ionones, green notes and hedione. Some of my favorite green tea perfumes include the classics like Bulgari Eau Parfumée au Thé Vert. I also have to mention the new Maison Margiela Matcha Meditation, a fragrance by perfumer Maurice Roucel.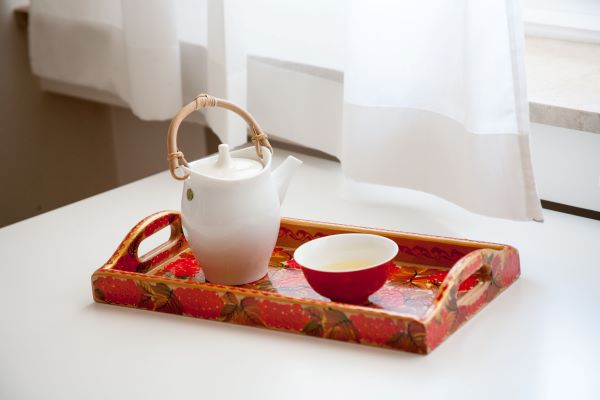 Comments about your favorite tea perfumes are much appreciated. Please jot down any interesting scent observations in this thread. You can write about your favorite  fragrances or interesting scents you've encountered.
You can also use the Scent Diary to sharpen your sense of smell. As I wrote in How to Improve Your Sense of Smell, the best way to do so is to smell and to pay attention to what you're smelling. It doesn't matter what you smell. The most important thing is to notice scents around you. It's even better if you write it down. Feel free to ask any questions here too.
Photography by Bois de Jasmin, green tea on a red tray