While reading the memoirs of Mir Taqi Mir, a great Indian poet who lived in 18th century Delhi, I came across a charming anecdote about a jasmine pilaf. Once you read it, you'll know right away why the description captured my attention.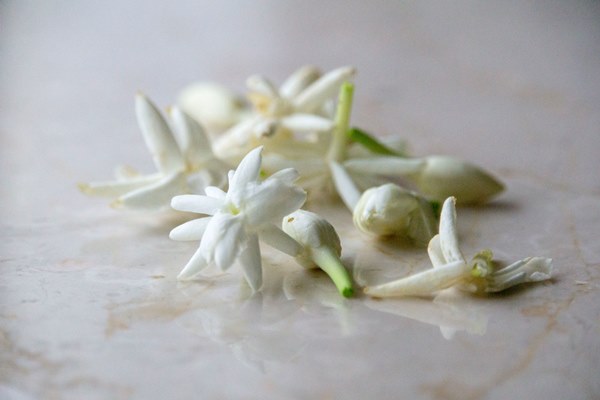 "They used to prepare a fine jasmine pilaf at the house of A'zam Khan Sr. They would put jasmine flowers in some oil and let it sit for a few days so it would absorb the fragrance. Then they would use the oil to cook the rice, which gave it a fine aroma. Burhan-ul-Mulk heard its praise and made a request to A'zam Khan Sr., who then had some prepared and sent over in several big platters. Burhan-ul-Mulk ate it with relish, then remarked in a jocular vein, "It's not a platter of pilaf; it's the blessesd grave of Hazrat Nizamuddin Auliya." The remark was greatly enjoyed, for people in fact used to bring jasmine flowers in great quantities to cover that revered person's grave. It would then look like a heap of flowers, and their fragrance would transport passersby even at some distance."
As was customary among the literati of his time, Mir Taqi Mir wrote his memoirs in Persian. His most celebrated poetry, on the other hand, is in Urdu, and Mir's is some of the most beautiful and mellifluous writing in that language. He possessed a gift for what is called in Urdu as ravani, or flow. If he writes about the sea, for instance, one can feel the undulations of the waves in the melody of his language. That being said, Mir didn't hesitate to touch upon earthy topics. He also wrote several poems dedicated to his cat. (And if you must know, "heaven's pale cat" was his metaphor for the sun, demonstrating that the internet-age obsession with felines is nothing new.)
Mir's memoirs likewise touch upon a wide range of topics, from cerebral to raunchy. In fact, some anecdotes he shares are so racy that they haven't been shared before. This year, Harvard University's Murty Classical Library of India published Mir's original Persian memoirs and Urdu ghazals along with excellent English translations.
Even if Mir's Delhi is now a different city, one can still find jasmine garlands covering the grave of the Sufi saint Nizamuddin Auliya so thickly that at certain times of day their scent overpowers the aromas of biryani cooked in the lanes nearby. Mir would have been delighted.
Photography by Bois de Jasmin