Beautiful fragrances can lift your mood. Over the past few months I have been wearing my most opulent perfumes without being concerned that they might become associated with a dark period in my life. I needed colors, texture, and vibrancy, and my beloved classics satisfied me. Complex fragrances have the benefit of being multifaceted, so that each time you wear them, you discover a new layer or create your own story to match the mood. Perfume may be a dispensable luxury, but like all beautiful things, it serves to elicit positive emotions and boost the spirits.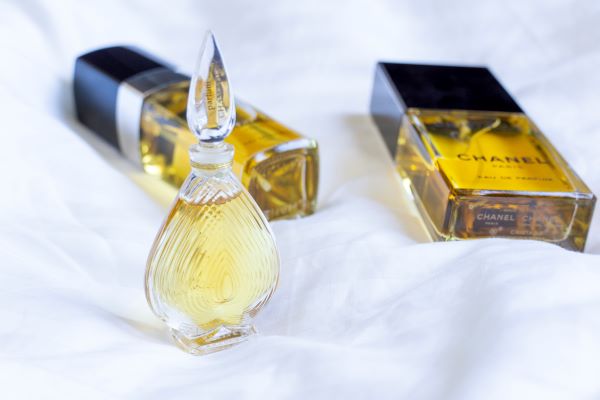 For my summer-themed selection, I've settled on a list of five masterpieces. These are the perfume equivalents of novels by Tolstoy and George Eliot because of their layers, nuances, and twists. Some are elegant colognes; others are lush florals and bittersweet chypres (mossy-woody blends.) The list is personal, but I think that you will agree that these are among the classical perfumes to try. Some of them might be ideal as an introduction to classics.
I mention Cristalle often in my lists for a reason. It's an impeccably crafted composition that pairs a vibrant floral accord with mossy layers. Then it weaves a cool woody note throughout, adds a crisp citrus accent and a dose of subtle aldehydes. The result is like a sip of champagne, heady and sparkling.
A melody in lemon yellow tones. Chamade evokes mixed associations with its exquisite composition of green floral notes and mossy woods. A wistful hyacinth note is intertwined with the dark blackcurrant element, suggesting a beautiful contrast. Study Chamade as you apply it on your skin, and you will find a series of such contrasts and harmonies. If you think of scent in terms of colors, you might discover that the hues of this Guerlain classic deepen as it evolves, from soft pastels to saturated purple and brown shades.
Chanel Eau de Cologne
An elegant cologne with a modern musky-woody finish. Unlike classical bitter citrus compositions, Chanel's is transparent and delicately sweet, with just enough warmth to take away the sharpness of bergamot and lemon notes. The citrus were cast as especially sunlit and effervescent. This sensation of shimmer lingers well into the drydown, where it contrasts it with the dryness of woods and the soft earthiness of musk.
A symphony of tuberose. Green nuances offset the richness of the composition, making it suitable for warm summer days. I recommend using Carnal Flower with a light hand to avoid a smothering effect; rightly dosed it's one of the most evocative white florals all year around.
Vétiver is not as much of a masterpiece as Eau Sauvage, but it's one of the best renditions on the market. Created in the classical style, it has a distinctive citrusy brightness to lift the woody richness of vetiver. The interplay between the bitterness and freshness remains a leitmotif of this composition as it evolves. Reminiscent of grand vetivers like Guerlain's and Givenchy's before they were altered, Dior's version is the most refined. For men, women, and anyone who enjoys the salted woods and roasted hazelnut facets of vetiver.
What are your favorite classics for summer?
Photography by Bois de Jasmin