A major industrial center on the River Rhine, Cologne may not seem like a place with a fragrant history, but it was here in July of 1709 that Giovanni Battista Farina founded the company "G. B. Farina" and began to sell fashionable Italian goods from his native Piemont. When Johann Maria, Giovanni's younger brother, joined the company in 1714, he developed a perfume that he called "Aqua mirabilis" or "miracle water" and that he named Eau de Cologne or Kölnisch Wasser in honor of his adopted city.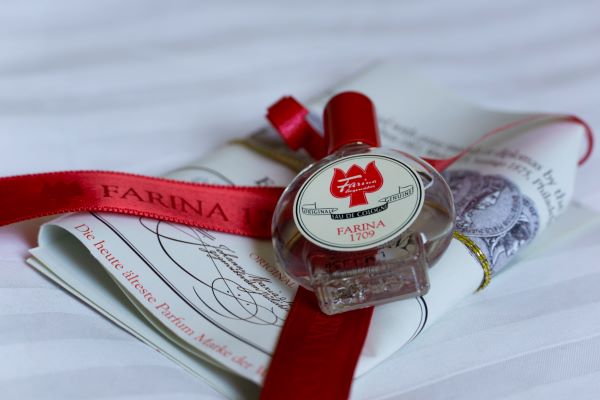 The fragrance was based on Italian essences of bergamot and lemon. Fresh, bright and effervescent, it was a break from the heavy perfumes of the period that featured dark musk and civet. "My fragrance is like an Italian spring morning after the rain," was Johann Maria's description of his Eau de Cologne, and this fantasy was so compelling that soon the perfume was much sought after. Mozart wore it and so did Napoleon. Oscar Wilde ordered it and Queen Victoria was a fan with a purchase order of over 600 bottles.
Upon arriving in Cologne, I went straight to Duftmuseum im Farina Haus, the fragrance museum dedicated to Eau de Cologne. Located in the former perfume factory, Duftmuseum traces the history of Farina's cologne and describes the process of distillation of various essences. The archival materials explain how Eau de Cologne was made and what set it apart from the competition. For most fragrance aficionados, some of the information will be rather basic, but seeing the distillery equipment and smelling the materials made the visit worthwhile for me.
The most fascinating part of Farina's Eau de Cologne story is how widely copied it became. Wilhelm Mülhens started selling Eau de Cologne in Cologne's Glockengasse in 1799, and he even hired people named Farina as partners to justify the name of "Franz Maria Farina, Glockengasse 4711, Cologne." Farina's family battled against such plagiarism unsuccessfully until 1873  when Mühlens was forced to rename his company "Eau de Cologne- und Parfümerie-Fabrik Glockengasse No. 4711 gegenüber der Pferdepost." Today it belongs to the company Mäurer & Wirtz and it makes another famous Cologne product, 4711.
Farina's Eau de Cologne is still produced today, although the formula is different from the original blend. It's still fresh and bright, but there is a strong marine facet that gives it a salty aftershave quality. White musks liberally lace the base, while the effervescence of citrus is toned down. It's a pleasant cologne, but I admit that I prefer 4711 or Roger & Gallet Eau de Cologne when it comes to a classical bitter-dry citrus. Still, it's a fragrance with a long history, and coming to Cologne to learn more about it was worthwhile.
For the rest of the trip, I strolled around the city, explored the Jewish quarter, and walked along the Rhine. The fourth largest city in Germany, Cologne nevertheless retains an intimate feel and lots of history. It manifests itself in the remnants of Roman towers and medieval walls, ancient synagogues and churches, and of course, the perfume rivals. Farina's creation still receives stiff competition from 4711 that is sold around the city. The 18th century battles are still echoing.
Duftmuseum im Farina Haus
Address: Obenmarspforten 21, 50667 Köln, Germany
Phone: +49 221 3998994
Photography by Bois de Jasmin, 2nd and 3rd images inside the Dom Cathedral of Cologne.