Luang Prabang, a town in northern Laos, is a city of magnificent temples and old royal palaces. Although far from undiscovered by tourists, it still has a quaint ambiance and a mellow pace of life. It stretches languidly along the Mekong, glittering with the numerous golden spires that grace its pagodas. Visitors are attracted here by Luang Prabang's beautiful  architecture and even more by its splendid cuisine, but I made the journey for the aromatic material called benzoin.
Laotian benzoin is a balsamic resin tapped from the Styrax tonkinensis trees. Redolent of vanilla and cinnamon, it's a material with centuries old history. Its uses for incense, pharmacology and cosmetics have been recorded since antiquity, while in perfumery it has always played an important role as a warm base note. Today it continues to be highly valued. In fragrances, benzoin can be found all over the scent wheel, from citrus colognes to ambers. Classics like Chanel Égoïste and Guerlain Shalimar rely on its sweet accent. It's also used for scenting toothpaste, soap, and a variety of other day-to-day necessities.
The Luang Prabang region, along with the provinces of Phongsali, Houaphan and Oudomxay supply the bulk of the benzoin used in perfumery and cosmetics today. The high plateaus not far from the city itself are home to hill tribes that practice small-scale agriculture using traditional methods. Their role in the fragrance and flavor industry is profound, especially since the Laotian resin is considered to be of the highest quality. It has a velvety finish and a pronounced fruity note, reminiscent of stewed Morello cherries.
At the market outside of Luang Prabang benzoin comes in the raw form. The opaque ambery lumps look like caramel toffee and the lush, mouthwatering scent completes the impression. Raw benzoin can be burned as a natural sweet incense, or it can be distilled into a rich essence, such as the kind used by perfumers today.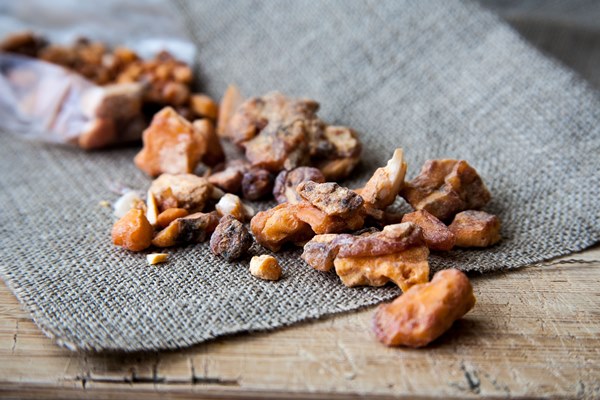 One famous example of Laotian benzoin is Prada Candy. The idea behind the perfume is to reinterpret caramel in a modern manner, bright and vivid. A large dose of benzoin is blended into an accord of musks and sweet citrus, resulting in an abstract gourmand fragrance.
Benzoin has a natural affinity with other sweet and rich notes like vanilla, balsams, leather and tonka bean, but it has a radiant quality that sets it apart. For instance, in Mx. by Eris Parfums benzoin is folded into a chypre vignette of sandalwood, patchouli, vetiver and saffron to create a luminous effect.
The note is equally successful paired with florals. Atelier Cologne's Rose Anonyme Extrait uses it to create the illusion of a dark rose steeped in incense and sandalwood attar. As improbable as it may seem for such an opulent material, benzoin can even play a part in a fresh cologne, like Herrera Confidential's Neroli Bohème. In this composition it plays up the richness of jasmine sambac and orange blossom, while supporting a scintillating citrusy top. One thing I quickly learned on my benzoin route is that this material is always ready to surprise with yet another unusual facet.
Photography by Bois de Jasmin
Do you have favorite fragrances with benzoin?