I spent much of last year traveling and researching the way spices and other aromatics are grown. My pursuit took me to the clove gardens in Indonesia, cumin fields in India, and the cassia cinnamon groves in Vietnam. The word 'spice' contains the same root as the word 'special,' and I wanted to discover how these unique fragrant plants are transformed into essences and used in perfumery.
The journey was full of revelations. I learned, for instance, that processing clove essence involves not the buds of the tree, the familiar cloves of mulled wine and gingerbread, but rather the stems and leaves. All parts of the clove tree contain essential oil with varying scent profiles. The leaves release sweet-smelling essence, but the one derived from the stems has a smoky, woody accent.
One of my favorite examples of the use of clove is Frédéric Malle's Noir Epices. The composition is based on a warm citrus accord, but clove, along with cinnamon, nutmeg, and black pepper, gives it a rich character. Perfumer Michel Roudnitska resisted the temptation to sweeten the blend, allowing the dry woody nuances of the spices to stand unvarnished. The result is luminous and multifaceted.
Cumin is a spice strongly associated with the cooking of the Indian subcontinent, and it's widely grown for both culinary and cosmetic uses. Raw cumin smells animalic and musky, but as anyone who has toasted cumin seeds knows, when warmed over fire, the spice's scent changes dramatically. It becomes caramelized and nutty. Recently, toasted cumin essence has become part of the perfumer's palette, and in Hermès's Epice Marine it adds a savory twist to the earthy vetiver and citrus cologne. The lemony cardamom, another favorite Indian spice, adds its shimmering top note, while the mellow cedarwood serves as a polished backdrop. In the meantime, the dark note of cumin glows seductively.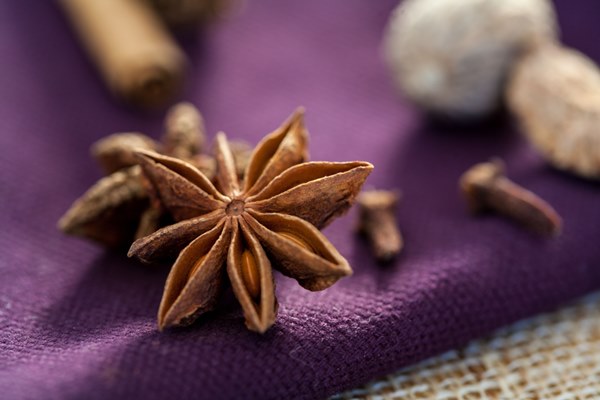 Traveling along the spice route, I kept coming across cassia cinnamon. It's a different botanical from the "true" Ceylon cinnamon, and while cassia's scent is sweeter and less complex, it plays an important role in perfumery. It adds a vivid explosion of fiery sweetness to any blend, even in small amounts. I particularly like the way cassia cinnamon inflects Dior's Spice Blend, a fragrance inspired by Bay Rum lotion. Several spices are woven through this elegant composition, such as ginger, black pepper, and vanilla, but it's the kiss of cinnamon that gives it a delicious, familiar touch. Spice Blend invites one to take a deep inhale and think of all things warm and comforting.
What are your favorite spices and spice perfumes?
Photography by Bois de Jasmin