I often receive letters from women explaining that they feel guilty about their interest in perfume, because it's "too indulgent" or "unnecessary." It's a luxury and we can live without it. Or so the argument goes. Except that it doesn't make sense. Perfume is not a fundamental need for human life, but you could say the same for music, art, fashion, sports, restaurants or millions of other things that are not strictly necessary for survival but essential for a happy life. There is no reason to deprive yourself of something that gives you pleasure, and giving in to it shouldn't be associated with guilt.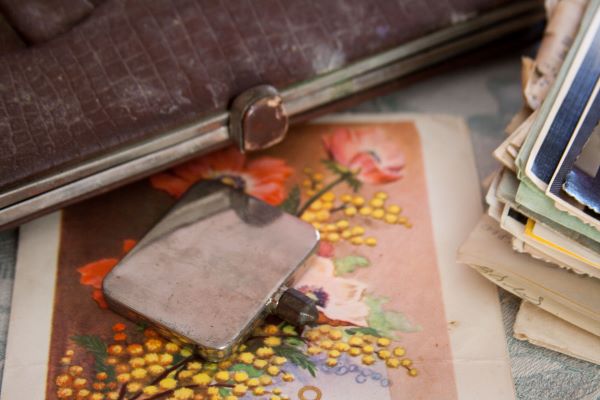 Scent is one of the simplest and most rewarding of enjoyments. By stimulating the sense of smell, you fantasize about another time and place, uncover a whole universe of new sensations and add splashes of color to the most ordinary day. Something as ubiquitous as a trip to the grocery store can become a fun experience as you smell the earthy tang of carrots or the pungent sharpness of onions piled in the vegetable section.  New research has revealed that the sense of smell is even more intricate than previously thought, and that smelling is one of the best exercises for the brain.
But like many other "feminine" pursuits, a perfume hobby can be harder to defend, because it's viewed as frivolous and expendable. You rarely see indignant comments on the sports pages or the photography forums that the money spent on prime tickets or fancy lenses could be better spent if donated to charity. On the other hand, they crop up time and again in the beauty sections of newspapers and blogs. The same people who admire my husband's collection of wine bottles look perplexed when entering my office with its rows of perfumes.
Unlike makeup or fashion, perfume is still a relatively niche hobby and many perfume lovers find themselves guilty and alone in their love for scented things. Guilty pleasure, however, is not much of a joy, and I refuse to let guilt taint my enjoyments. Carving out time for ourselves is essential for maintaining  balance in our busy, stressful lives, and I can't count the number of times when a waft of my perfume brightened up my day and made me smile when nothing else did.
I also want to reinforce the argument I often make on these pages–perfume is not a hobby reserved for those with unlimited personal wealth. Mine started when I was living on a meager student stipend.  Unlike many other hobbies, perfume can be easily tailored to the individual budget, without compromising in quality (see many ideas in How to Make Perfume Hobby Affordable). It goes without saying that we're our own finance managers and know how to build a reasonable budget that accommodates all of the necessary expenses, but the bottom line is that there is nothing wrong with spending money on our favorite pursuits.
On my last visit to Ukraine, I was browsing at the tiny village museum devoted to the Second World War and the local heroes. In a display case featuring the favorite things of a young resistance fighter, there were two objects that I couldn't miss. One was a powder box and another was a perfume bottle. I immediately recognized the crimson-orange packaging of Krasnaya Moskva, the most widely available fragrance in the Soviet Union, because I also saw it on my great-grandmother's dressing table, sharing space with her beloved White Lilac and Bulgarian rose oil.
She recalled that during the war a small bottle of perfume was always in her handbag, along with a tube of red lipstick. Her husband was fighting on the front lines, while she remained behind with two small children. In photographs from the period, she barely smiles, but her lips are enhanced carefully with color, and I imagine that her lace collar is redolent of the powdery lilacs. On the bleakest days, her lipstick and perfume were a reminder of beauty, happy days, and peace. Simple pleasures are not indulgences, they are necessities.
What is your relationship with perfume? What does it mean to you?