Do you remember the scent of your mother's lipstick? Do you enjoy the aroma of Nivea cream? Have you ever wished to have the fragrance of your favorite sunscreen as a perfume? The November 2019 issue of Financial Times's HTSI Magazine includes my article about the scent of lipstick and other cosmetics. I explore the nostalgia behind these aromas and explain why these scents, though subtle and discrete, can have a powerful effect.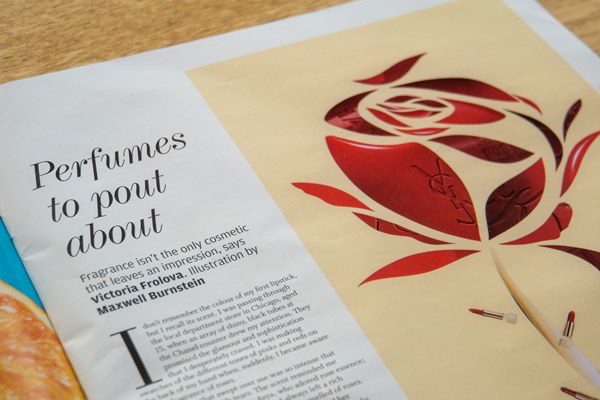 I don't remember the colour of my first lipstick, but I recall its scent. I was passing through the local department store in Chicago, aged 15, when an array of shiny, black tubes at the Chanel counter drew my attention. They promised the glamour and sophistication that I desperately craved. I was making swatches of the different tones of pinks and reds on the back of my hand when, suddenly, I became aware of the fragrance of roses.

The wave that swept over me was so intense that my eyes welled with tears. The scent reminded me of my great-grandmother, Asya, who adored rose essence; its sweetness enveloped her and always left a rich sillage in her wake. Even her lipstick smelled of roses. When Asya wasn't around, I furtively sniffed her rouge compact, its fragrance evoking her soft cheeks and melodious laughter.
Update: The article is now available online, The Nostalgic Allure of Lipstick, November 2019.
As always, I'd love to know what scents transport you? Do you have favorite scented lipsticks or other cosmetics?