Do you wear Arpège or Miss Dior? Have you smelled Le Galion fragrances? In partnership with the Osmothèque, I offer you an excerpt from Indiscretions apropos of a new perfume, a 1943 magazine article by Michel Arbaud, which pays tribute to French perfumer Paul Vacher. Vacher worked at Le Galion and Guerlain, and he collaborated with many legendary perfumers on creations that still inspire us. He co-authored Miss Dior for Christian Dior in 1947 with Jean Carles, and Arpège for Lanvin in 1927 with André Fraysse. In the article, Vacher describes how he would create a seaside inspired perfume and what notes lend fragrance a sensual effect.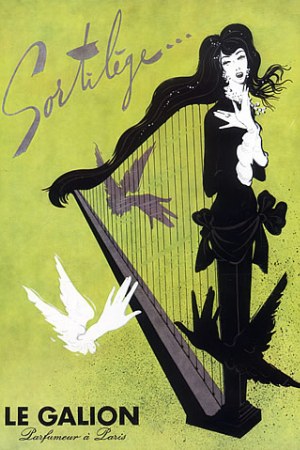 Vacher had an interesting approach to fragrance, but he's much less well-known to most perfume lovers than some of his contemporaries. Part of the pleasure of dipping into the Osmothèque's archives is hearing the voices of other creators, not only the most prominent ones. Vacher passed away in 1975, but Arpège remains an icon. Miss Dior has suffered somewhat post reformulation, but you can still smell it at the counter. In other good news, Le Galion is reintroducing its collection, including the exquisite Sortilège and Iris. Both were created by Vacher and reorchestrated by Thomas Fontaine, the current in-house perfumer at Jean Patou.
For other articles from the Perfumers on Perfume series, please see perfumers-on-perfume tag.
"The true creator of perfumes, not he who is satisfied by a decent mixture that is more or less novel, but he who ceaselessly searches for a new range of smells, rich in suggestion and reverie, always filled me with a somewhat superstitious admiration. A strange poet is he who has no words; a strange musician who uses no sound; a strange artist whose means of expression consist of a quantity of little labeled bottles that contain the essence, so variously aromatic or malodorous, of that in the world which touches most violently our olfactory nerves.