My great-grandfather was a Bolshevik. Although he was too young to have participated in the events of the Revolution of 1917, he joined grass-roots Communist groups to spread literacy–and the word of Lenin. He was the first in his family to earn a university degree, and until his retirement he worked as a school teacher in central Ukraine. On the day marking the anniversary of the Bolshevik Revolution, November 7th, he donned the military honors he received during WWII and joined the parade.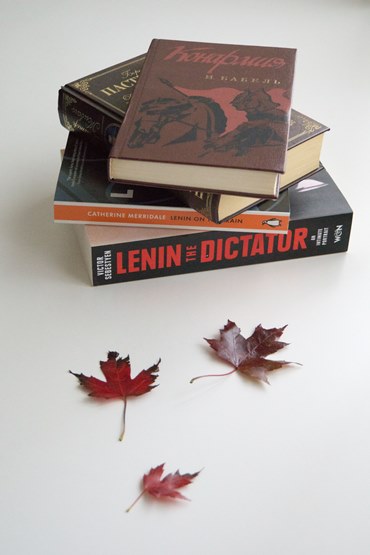 Growing up in the Soviet Union, of which Ukraine was a part, I took the parades and processions for granted. I didn't like them, because they felt perfunctory and empty of any meaning, but I participated, because refusing wasn't an option. The older I got, the more I detested the slogans and the marches. "What did this revolution of yours achieve?" I would say to my great-grandfather whenever our discussions erupted into arguments. "Endless parades and endless lines?" The 1980s were a time of endemic shortages, when even basic goods like toilet paper disappeared from store shelves. When that happened, without a trace of irony we cut up the old issues of Pravda, the main Party newspaper whose name meant "Truth." My great-grandfather was the only one who used it for its original intended purpose–reading the news.
Yet, for all his ardent belief in the revolution, my great-grandfather never romanticized it. I'm sure he would find the contemporary left's nostalgia for a time they never experienced as deeply baffling. He might have thought that it was necessary to remove the corrupt, despotic tsarist system, but he recognized the tragedies it unleashed, especially the Civil War during which my great-grandfather lost much of his family. He was a believer and an idealist, but he wasn't blind to the fact that the Red Revolution was followed by the Red Terror.