Some of my experiences with Yves Rocher were disappointing—
Pur Désir de Lavande
was insipid,
Gardenia
and
Lily
were not at all like the flowers that inspired them. So I didn't expect to fall in love with 
Rose Absolute
. Not only is it an elegant rose with sweet touches, but also lush and complex. Created by the talented perfumer Christine Nagel (
Fendi Theorema
,
Lancôme Mille et Une Roses
,
Narciso Rodriguez for Her
) in 2008, Rose Absolute from Secrets d'Essences will be a wonderful discovery for a rose lover.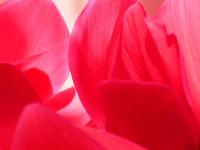 The rose is wrapped in amber and warm balsamic notes, but the start is fruity and bright. Although Rose Absolute has a classical rose character, it is  a modern flower. The roses are rendered in vivid and rich hues. Smelling the perfume on skin, I keep craving rose jam; Rose Absolute evokes crystallized petals suspended in translucent honey. The sweetness, on the other hand, is tempered by woods and patchouli. As Rose Absolute develops, it becomes darker, earthier and warmer. It never loses its sophisticated aura, but the character is lighthearted and vivacious. Wearing it is a pleasure.