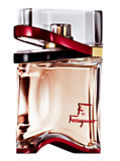 Star rating: 5 stars–outstanding/potential classic, 4 stars–very good, 3 stars–adequate, 2 stars–disappointing, 1 star–poor.
F is indeed an appropriate name for this rather indifferent new release from Salvatore Ferragamo. From the sharp nail polish remover stringency of the top notes to the cloying sweetness pervading its base, F adopts every single cliché of a commercial feminine perfume with the resulting impression lacking any suggestion of character or individuality. …
Commercial is not necessarily a derogatory term. By way of example, both Prada and Calvin Klein Euphoria take the highly commercial patchouli overdose pioneered by Angel and then dress it with rich amber in the former and purple tinged tropical fruit in the latter. However neither is a me-too copy, but rather they build on the theme, with good results in both cases.
F does not seem to have a distinctive touch, save for the striking bottle shaped like a famous Ferragamo wedge shoe. This lack of signature is particularly surprising given that F is meant to embody the retro glamour and the daring spirit of Salvatore Ferragamo, a remarkably talented shoe designer whose inventions range from the wedge and the stiletto heel to the "invisible" shoes made out of thin nylon strands. It is even more surprising to discover that F is made by Francis Kurkdjian, whose work I tend to admire for its grace and harmony.
In 1990, there were about 70 new releases, while last year the counters included more than 500. Out of those 500, only a small handful will remain on the market for longer than three years. In the language of game theory, the new launches are subject to a prisoner's dilemma—the short-term benefits sometimes override the considerations of greater long-term gains. F provides a good illustration of this analogy.
According to the press release, F by Salvatore Ferragamo contains only three notes–rose, jasmine and orange blossom. It certainly does not mean only three ingredients, since the effect of the flowers can be achieved through several different materials. Whatever the case may be, one is not left with the illusion that any of these three flowers came from a living plant. F is available at Sephora and Neiman Marcus.