Whenever I mention to a new acquaintance that I work in fragrance and we plunge into a discussion of perfume, most people remark that they never thought that scents could be so fascinating. We take our nose for granted. In various surveys asking people what sense they would most likely give up, most select their sense of smell. But it only takes a moment of reflection to realize how hard this loss would be. As many studies show, without the sense of smell, our food tastes bland, our libido suffers, our world loses color and even our memories becomes so much poorer. The message is simple: take care of your nose and use it to its full capacity.
Enjoying perfume is only one facet of being scent obsessed–cooking, gardening, and even something as simple as taking a walk in the park counts too. But perfume is such a great adventure. It cheers me up when I feel down. It makes me feel elegant. It indulges my fantasies and wanderlust. Exploring scents for their rich history and fascinating craftsmanship gives me as much satisfaction as art and music, and it is just as rewarding.
But when you are standing in front of a crowded perfume bar, it's easy to feel disoriented. Where do you start? What do you smell? It doesn't help that the sales associates are only pushing the new releases their brand pays them to promote or that they are usually not trained enough to guide you. I wish I could go to the perfume counter with you and spray away (although I admit to being just as confused when I face the dozens of perfume bottles filled with nearly identical juice). Instead, I decided to take a look at Bois de Jasmin's archives and highlight articles relating to different aspects of perfume enjoyment. I hope that this selection will be helpful both to perfume newbies and perfumistas with many years of perfume  exploration under their belts. I also look forward to hearing your tips and thoughts on this topic.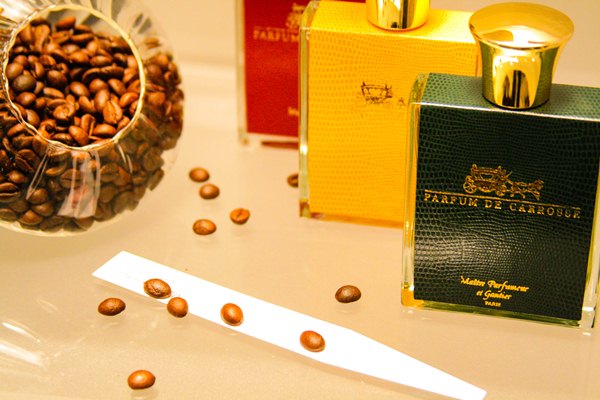 Playing the Field: How to Approach the Perfume Counter
If you are reading this blog, you're probably already interested enough in perfume to be curious to explore more. Perhaps, you have a couple of perfumes in your collection and are looking either to expand your wardrobe or to try something new. The reason I start this discussion by talking about the perfume counter is because that's where most of us dip our toes into the endless sea of perfume. Approaching the perfume counter in the right way and figuring out how to make sense of what you find there is essential. In my Perfume Shopping Tips Article, I talk about ways to research scent selection, how to smell, and most important, how not to get overwhelmed by the choice at the perfume bar. If you live outside a big city, Suzanna's article How to Survive As a Small Town Perfumista gives some ideas how to manage your perfume hobby.
When you are just starting out in your perfume hobby, you should smell as much as possible and don't rush into purchasing anything. Instead, collect samples and revisit them from time to time to hone your nose and to learn about your tastes. In The Art of Seducing Yourself : How to Select Perfume, I describe some ways to understand your preferences. This may sound facile, but sometimes it's hard to know what exactly we enjoy. The most important person you have to please is yourself, so listen to your instincts. A beautiful perfume will give you an emotional rush and butterflies in your stomach.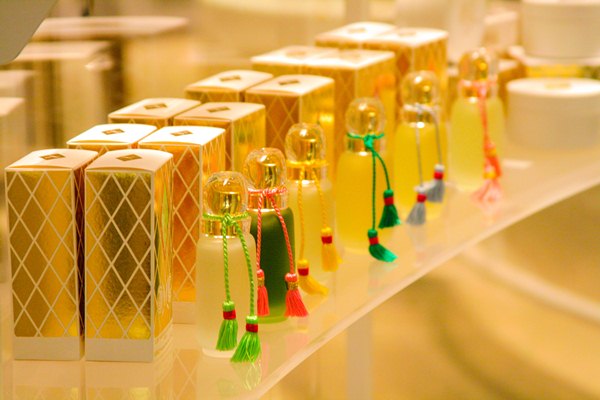 So, where do you start if you want to try more than what's available at your local mall. In Exploring Niche Perfume, Bois de Jasmin readers share their favorite niche and indie brands and their recommendations on where to start.
Approach each new scent with an open mind and allow the perfume to develop on your skin and run its full course. Ask yourself these questions: Do you enjoy the perfume at all stages? How well does it last on you? Do you remember it the next day? A beautiful perfume is memorable, harmonious and full of surprises. In a two part article on The Price of Luxury Perfume and Value For Money, Quality and Other Perfume Musings, the topic of perfume quality is explored in more depth. Favorite Affordable, Inexpensive Fragrance talks about cheap & chic scents that won't break the bank. Also, you might find extra tips in my article on How to Make Perfume Hobby Affordable and More Fun.
Sometimes you may find that a perfume smells great on the blotter and not so interesting on your skin. In Do You Have Skin? On Skin Chemistry and Perfume, I describe how individual body chemistry can affect the way fragrances smell on skin. In some cases, a perfume might require more than one trial before you can determine whether you enjoy it or not. Suzanna covered this topic in Perfume Pursuit: Is Fragrance Worth A Long Courtship?, and the comments to this article offer many interesting suggestions. Perfumes That Challenge and Perhaps Seduce gives some examples of fragrances that might be difficult to approach, but that eventually reveal their beauty.
A question might be raised about the gender divisions in perfume. Can you wear a fragrance marketed to the opposite gender? This can be a fun exploration in itself, and Running with the Boys : Adventures at the Fragrance Counter describes my own discoveries (and mishaps).
Bois de Jasmin also has a selection of articles and city guides on perfume shopping that might be helpful. If you travel to Paris, you might like to consult my Paris Shopping Guide (and be sure to stop by Grain de Musc for more Paris perfume suggestions).
Finally, even if you don't speak a word of French, Bela's website Fragrance Name of the Day will help you pronounce perfume names with a perfect accent.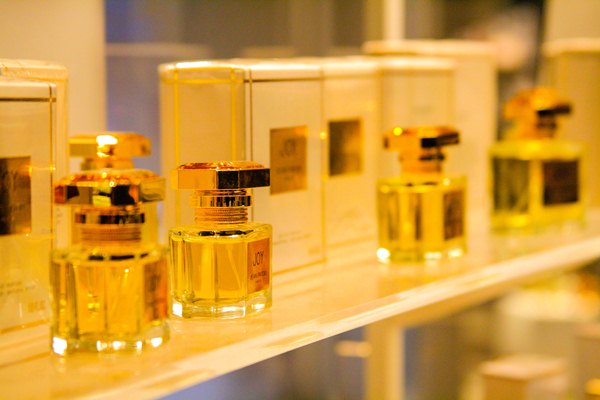 Benchmark Perfumes
Sometime it helps to smell fragrances that are considered great and  unique. For instance, you might like to look at Guy Robert's Selection of Perfume Masterpieces, a compilation made by a great perfumer who created some of the most remarkable fragrances of the 20th century such as Hermès Calèche, Christian Dior Dioressence, and Madame Rochas. In the ongoing series Fragrances That Influenced Perfume History (soon to be resumed!), I present an overview of perfumes that scented the 20th century and had a profound impact on fragrances we smell today. You need not have classical perfumes in your wardrobe, but it's still worth exploring them. In 10 Things I Love About Classical Perfumes I talk about my favorite reasons for enjoying perfume classics.
Or you might be interested to know what women around the world like and buy: Perfume trends, Top Selling Feminine Fragrances USA, Top Selling Feminine Fragrances France, Top Selling Masculine Fragrances USA, and Top 20 Bois de Jasmin Reader Favorite Fragrances.  By contrast, Top Great Market Failures offer a look at the market flops, some of which are excellent.
Building a Perfume Wardrobe
The promise of a signature scent is tempting–a scented signature that our friends and loved ones will always associate with us, but is it really so fulfilling? In Signature Scent, fragrance expert Marian Bendeth explores why a signature perfume may not the best way to wear fragrance. We don't wear the same clothes, eat the same food or listen to the same music. In the same way, having a perfume wardrobe might be a more enjoyable way to dress up in fragrance. By a perfume wardrobe, I don't mean a collection of dozens of perfumes. A small, well-edited selection is much better anyway. In Building Perfume Wardrobe, I describe how I approach building my own wardrobe.
Under the tag how-to-wear-perfume, you will find lots of posts about different ways to enjoy fragrance. There are no specific rules, and your choices will be driven by your personal preferences. Be sure to read the comment sections for these articles, because they are full of great and inspiring advice.
Perfumes For Different Occasions
For instance, Suzanna's Perfume At The Office : Workplace and Scents looks at ways to wear perfume in close quarters. "Can't Decide What To Wear" : Choosing Perfume is about our favorite fragrances that always feel right, even when you can't decide what you are in the mood for. Little Black Dress Perfume : Best Versatile and Elegant Fragrance, Elegance in a Perfume Bottle, Playing Femme Fatale : Red Lipstick and Perfume, and Red Lipstick Fragrances explore the ideas of elegance and glamour that your fragrances might convey.
Occasionally, we also want our perfume to touch and  inspire others. Most Complimented Perfume is a favorite topic, as is Perfume As Seduction : On "What Drives Men / Women Crazy".  Most Romantic Perfume is another discussion of scents that evoke romance and allure.
Some fragrances have a strong emotional effect, making you feel relaxed, comforted or uplifted. Daytime vs Evening Fragrance, Refreshing Perfume, and Relaxing Fragrances : How Perfume Alters Our Moods are a few posts on this topic. I discovered  recently that many of us love to wear fragrance to bed to help us feel either sultry or relaxed, and the comments to Perfumed Nightgown : What Do You Wear are very interesting to read.
When you have played with your fragrances enough, you might consider layering. Layering Fragrances : Perfumer Jean-Claude Ellena and French Elle Part 1 and Layering Fragrances : French Elle Part 2 give guidance on how to approach fragrance layering.  Tips and Tricks: How Do You Apply Perfume? is about the ways to scent yourself and make the fragrance linger on your skin.
If you are interested to explore fragrances appropriate for different seasons, please take a look at my selection of fragrances for fall, winter, spring, and summer.
Smelling Notes
At some point, you will be interested in the ingredients you're smelling in your perfume. Some materials might be instantly familiar such as vanilla, rose, cinnamon, pepper, and freshly cut grass, while others will be a mystery–what's that starchy, sparkling thing in the top notes of Chanel No 5 that smells vaguely like candle wax? (Aldehydes!) Since my day to day work revolves around perfume raw materials, I enjoy writing articles that focus on various fragrance ingredients, from amber to ylang-ylang. The full selection can be found at Perfume Notes Index. Speaking Perfume : A-Z of Common Fragrance Descriptions might be helpful to figure out the meaning of the common terms found in perfume reviews. Myth of Perfume Pyramid explains why the marketing concept of a perfume pyramid is misleading.
You might also be interested to learn about perfumers/noses who are behind the fragrances you are smelling. Interviews includes conversations with Sophia Grojsman, Serge Lutens,  Yann Vasnier, and more. Some of my favorite perfume books are discussed as well, and I recommend checking them out if you are hungry for more information.
Since smell and taste are tightly linked, I enjoy exploring this overlap in my food themed articles, which can be found at Gourmand Library Index. You can find tested recipes for scented drinks, desserts, homemade preserves, salads and vegetable side dishes and much more. Spices and flavors can enhance even the simplest preparations and help transform something as ordinary as a grilled chicken breast into a gourmet meal.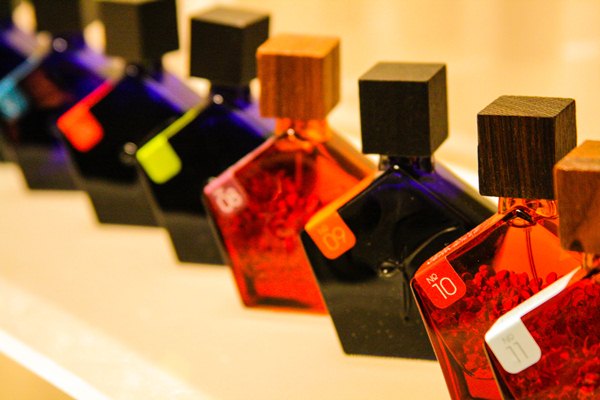 AP Credit: Delving Deeper
The more time I spend researching scents, the more fascinating this topic becomes. Perfume history is inextricably linked to developments in science, new movements in art, trends in fashion and social changes. If you enjoy learning more about this topic, the Perfume History category offers different articles such as The Game of Love : Perfume in Kamasutra, 18th Century Incense Recipe, Sweet Honey Water : Perfume Recipe from the 17th Century, Maria Tallchief, Balanchine and Guerlain, Big Shoulders, Big Hair, Big Perfume : 1980s Through Fragrance, and even the history of drugstore perfumes in Classics on a Budget : Drugstore Perfumes. Coming of Age : An American Perfume Story is Suzanna's beautiful exploration of American perfumery tied with her own experiences in becoming a perfume lover. Discussions of historical perfumes and fragrance houses can also found under the Classics and Vintages rubric.
Perfume is a business and sometimes its practices are confusing and frustrating. Under the tag of perfumery-business, you will find my articles about what it takes to make a bottle of perfume. The ongoing series How Many Hands Touch Your Bottle of Perfume will further contribute to this topic.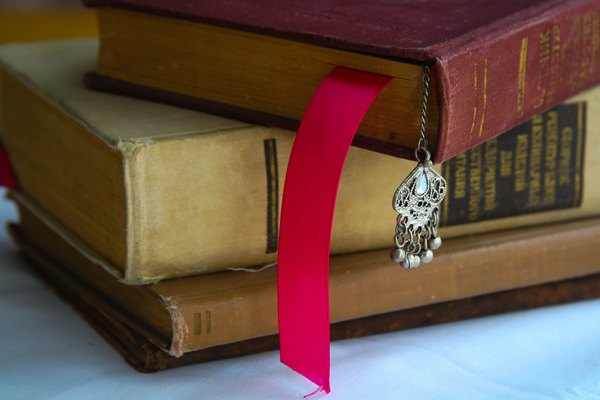 Extra
I have hundreds of perfume reviews here, and you can sort them by house, by creator, by note, by mood, or by rating.
A to Z Tips for Enjoyable, Affordable and Rewarding Perfume Hobby includes numerous tips that have been contributed by Bois de Jasmin readers and if you are not sure what a decant is or how to order samples, it's a great place  to start browsing. Also, NSTperfume's New to Perfume and Want to Learn More, Perfumeposse's Perfume 101 and Perfume 201 are  excellent resources that include many great recommendations. Enjoy the journey!
Photography by Bois de Jasmin