Let me shower you with rose petals today. On second thought, as far as I'm concerned, roses are too good to be left only for Valentine's Day, and whenever I can, I indulge in a bit of pink petal fantasy. Rose perfumes are great to daydream about summer, but my little secret is found in a kitchen cupboard. It's a bottle of rosewater. I use it in my tea, splash it on my face and sprinkle the bed sheets for a delicious finale to my day. If you want everything coming up roses, it's hard to resist its honeyed perfume.
Rosewater is the by-product of rose oil production. When the rose petals are steam distilled, the watery substance (hydrosol) that remains behind after the essential oil is removed still has a rich scent. It's prized for its cosmetic and flavor properties, and genuine rosewater smells like a walk through a blooming garden. Commercially, it's biggest use is in skincare and flavors. In food, it's not only used for candy and desserts; a rose accent can add an intriguing layer of flavor to a savory dish.
I could give you 100 ways to use rosewater; it's remarkably versatile! I will start with these 10, and over time I will be adding other recipes to the collection. You can always click on the rosewater tag to see my favorite rosewater applications.  But first, a few words on what to look for when you shop for rosewater.
Rosewater Shopping Notes
Food and cosmetic grade rosewater can be found at Indian and Middle Eastern stores, Whole Foods and gourmet shops like Dean & Deluca. When you buy your rosewater, pay close attention to the label. Not all fragrant waters are made equal, and while some brands sell the real by-product of rose oil production, others offer reconstitutions of varying quality. Some of the best rosewaters are made by Iranian companies, where the rosewater production is a well-established business. If your Iranian rosewater is made in Kashan (it would say so on the label), you're in for a special treat. Kashan roses smell like warm honey and berries.
Lebanese rosewaters are also excellent. Mymouné is my top choice for genuine rosewater. It is produced according to traditional methods by a women's cooperative in Lebanon. Cortas is another recommended Lebanese brand, and  their product is made out of distilled rose petals, with no additives. The perfume is more citrusy and metallic than Mymouné's, but for body treatments and cooking preparations that require heating it's ideal.
When it comes to reconstituted rosewaters, things get murkier. One of the better options is Heritage brand available from natural food stores. It contains only pure rose oil and distilled water and smells like sunwarmed rose petals. Less well-regarded are the brands that spike their rosewater reconstitutions with rose synthetics. While their product is safe to eat, the scent may be sharp and metallic. When you see a label that says "Water, Concentrated Rose Water, Natural Rose Flavors" or "Steam Distillate Made from The Purest Rose Petals. Ingredients: Propylene Glycol, Alcohol(40%), Rose Oil, Natural Flavors," beware that you may not be getting the best deal.
If you're a real do-it-yourself type and have access to fresh, scented rose petals, you can try making rosewater yourself.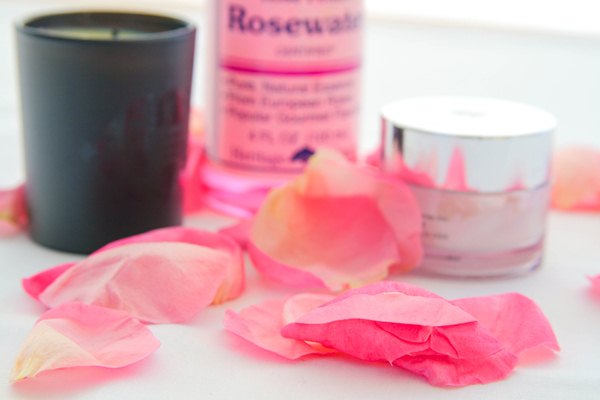 1. Light Fragrance
Rosewater smells exactly like fresh petals, and what it lacks in longevity–10 minutes is all you get, it makes up for with its sunlit charm. On days when you're traveling or don't want to have a perfumed presence, it's ideal. It feels refreshing and uplifting.
2. Face Toner
An important ingredient in many skin care preparations, rosewater is likely to be already featured in your toners, lotions and creams. Its anti-inflammatory properties make it soothing for dry skin. In Morocco, it's frequently mixed with argan oil for a homemade makeup remover. I add a tablespoon of rosewater to one cup of distilled H2O for a softening toner. As with any new skin care treatment, be sure to do a patch test before you start using it on regular basis.
3. Hair Rinse 
Another way I incorporate rosewater into my beauty regimen is to use it as a hair rinse (2 Tablespoons per 1 cup of water). After I shampoo and condition my hair, I thoroughly rinse and then follow up with the rosewater mix. It's excellent for skin and leaves a very delicate scent in my locks.
4. Body Treatments
Rose's many benefits for skin care make it an interesting addition to homemade body treatments. I use it in my Rose and Vanilla Almond Oil, or if I'm pressed for time, I mix rosewater and my regular body cream. You can also add it to scrubs and directly into bath water. A rose scented bath at the end of a long day is the best antidote to stress.
5. Scented Bedsheets
A recipe for sweet dreams and more! I add 3 Tablespoons of rosewater for every 1/2 cup of water and pour it into a spray bottle. Before getting into bed, lightly mist the sheets with scented water.
6. Yogurt and Custards
Almost anything milk based works perfectly with rose: cream, yogurt, fresh cheese. Delicate and light, rice pudding is one of my favorite desserts falling into the comfort food category. Just substitute rose water for orange blossom water in my recipe. Or stir a dash of rosewater into pannacotta. Be careful not to add too much, because the rose flavor can be very strong.  Another interesting recipe to try is Indian Yogurt Mousse with Rose and Saffron.
7. Lemonade and Tea
I love starting my day with a cup of rose scented tea, thanks to the fantastic recipe developed by Andy, our resident tea expert. The marriage of lush rose and bitter tea is irresistible.
Since rose and lemon share some flavor components, it's only natural to try blending them. Start by adding a teaspoon of rosewater to your favorite lemonade recipe and notice how the floral nuance of lemon grows stronger.
8. Cakes and Cookies
Old Russian pastry recipes often include rosewater as one of the optional aromas, along with vanilla, cardamom, lemon peel and cognac. Added to the cake batter or the dough for butter cookies, rosewater will not make them taste perfumey, but it gives more depth and complexity. A tablespoon per each cup of flour is my favorite ratio (be sure to adjust the amount of liquid used in the recipe).
9. Berry and Fruit Salads
Rose and lychee is one of the most beloved pairings in perfumery, from Chloé to Serge Lutens Sa Majesté la Rose–these notes complement each other perfectly. Raspberries, strawberries and even apples take well to rose. One of my favorite winter fruit salads involves julienned apples and pears sprinkled with lemon juice, rosewater and sugar. Macerate for 15 to 30 minutes and serve with lady fingers to soak up the delicious juices.
In the summer, I give raspberries a boost with rosewater, sugar and a pinch of thyme. The flavor is magnified tenfold.
10. Almonds and Pistachios
If you have a recipe in which you use almonds or pistachios, you can be certain that rosewater will fit in perfectly. The milky sweetness of these nuts blends so seamlessly with rose that you will wonder why you haven't tried this pairing sooner. Most traditional Indian and Middle Eastern sweets usually rely on this flavor combination–a classic!
Do you have your favorite ways of using rosewater?
Photography by Bois de Jasmin (except for photo #2, rosa damascena via wiki-images, some rights reserved).