According to the Greek mythology, the garden of Hesperides was a garden belonging to Zeus's consort, Hera, where immortality-giving apples grew, tended by the daughters of Hesperus or the God of Evening, the Hesperides. Alluding to the magical golden apples, the name Hesperide came to be applied first to oranges and then to the entire citrus family.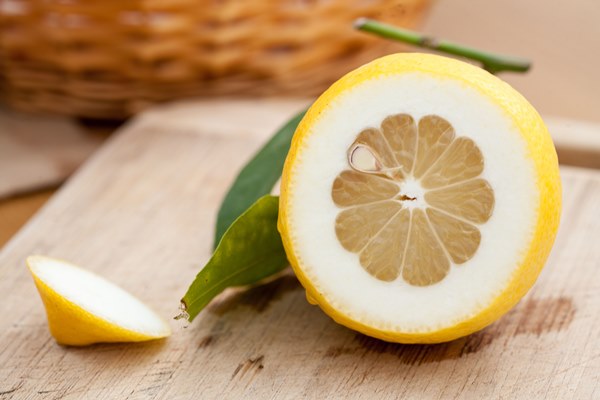 Although citruses seem ubiquitous now, the fragrant fruit was among the precious cargo from the Spice Route. The earliest mention of citruses occurs in the Nan-Fang Ts'ao Mu (Trees and Plants of the South) written around 300 A.D. by Chi Han, while in 1178, there appears a whole chronicle dedicated to citruses, the Citrus Chronicle (Chű Lu), written by Han Yen-chih (Morris 48). Native to China and Southeast Asia, where about 500 species can be found, citruses were brought to the west by the Arabs. The parts of Europe under Arab control, such as Spain and Sicily have a long tradition of citrus cultivation. Indeed, Sicilian citrus oils have always been among the most prized. In the 14th century, spice trade was the source of revenue for Italy, specifically Venice, which after the battle at Chioggia in 1380, defeated Genoa and monopolized the trade (Morris 141). The Venetian galleys intercepted the caravans at Aleppo or Alexandria, and then would transport their wares to various guilds in Europe (141).
Since their discovery, citrus oils became an important element of European fragrances. Indeed, their popularity and usage in some ways parallels the rise of perfumery. The guild of glove and perfume-makers was established in France in the 17th century, although the first perfumer guild was established in 1190. Louis XIV (1638-1715) ordered his court perfumer M. Martial to compose a new fragrance every day, while his gardeners planted orange trees in a large orangerie (155). Colognes often included citrus oils in a highly rectified grape spirits base and were intended to be potable in addition to possessing external uses. Therefore, the famous Gone with the Wind scene, when Scarlett O'Hara gargles with cologne to mask the odor of brandy would not have been that shocking up until late 19th –early 20th century when denaturated alcohol gradually began to supplant grape spirits as perfume base.
However, it was in the 18th century when perfumery truly blossomed in Europe. The rise of eau de cologne cannot be envisioned without pleasantly warm and shimmering scent of bergamot. The court of Louis XV was known as "la cour parfumée", "the perfumed court." The most influential scent of the period was Aqua Admirabilis, composed by Gian Paolo Feminis in 1709. It was based on grape spirits, oils of neroli, bergamot, lavender and rosemary. Feminis moved from his native Italy to Cologne, where his nephew Jean Marie Farina continued the production of light and refreshing fragrance water, which quickly acquired the name of Eau de Cologne, based on its place of origin.
Low molecular weight means that citrus oils function remarkably well as top notes, giving lift and sparkle to just about any blend. Masculine fragrances especially are difficult to imagine without referencing citrus. An important fragrance family, chypre, always contains fresh cool notes of citrus, paired with the dark earthy notes of vetiver, oakmoss, iris, amber and patchouli.
Citrus oils are a result of cold-pressing, apart from lime and yuzu, which lend themselves better to steam distillation. Oils are deposited in glands in the fruit peel. If you are planning to use citrus oils for aromatherapeutic or perfumery purposes, I would highly recommend using organic oils, due to the fact that most of the pesticides are absorbed by the peel.
From Bergamot to Yuzu
There is an incredible variety of citruses used in fragrance, with the new varieties constantly developed, and a comprehensive review is practically impossible. However, I will attempt to overview the main citrus notes used in perfumery. Bergamot (citrus bergamia) is one of the most popular citrus notes, due to the fact that it is used extensively in a variety of fragrances, from classical eaux de cologne to modern aldehydic perfumes. Bergamot grows almost exclusively on the coast of Calabria, where it has traditionally been expressed to derive must prized oil. In 18th century, little papier-mâché boxes scented with the bergamot were very popular. Bergamot was a chief component of Napoleon's favorite soap, Brown Windsor, which also contained clove and lavender oils. His favorite scent was bergamot, rosemary and lavender based Jean-Marie Farina's Eau de Cologne, which the emperor consumed by liters. Before retiring, Farina sold the formula to Léonce Collas, who in turn sold the original formula to Armand Roger and Charles Gallet in 1862, who started selling Eau de Cologne in 1884, which remains in production till this day.
Grapefruit (citrus x paradisi) has a bright, crisp scent that is particularly well suited for pairings with bergamot, however it is more frequently employed in its synthetic form, as it breaks down on the skin to form malodorous compounds.
Lemon (citrus limonia) with its sunny shimmering fragrance is an epitome of summer. Native to Southern China, it is now grown in Sicily, California, Guinea, Brazil, and Israel. It is an important ingredient of colognes and many cleansing products, which is why many lemon focused fragrances immediately bring forth comparisons to Pledge.
Lime (citrus aurantiifolia) is native to India and Southeast Asia. Its scent is drier, lighter and sweeter than that of lemon, with which it blends wonderfully. Like certain notes, lime adds an instant clarity to many compositions, reinforcing the brilliant sparkle of the top notes.
Bitter orange (citrus aurantium), also known as Seville orange was one of the first citruses brought to the Mediterranean from China (Morris 109). Some of the most important uses of bitter orange is a distillation of flowers for production of either orange blossom absolute (solvent extracted) or neroli (if steam distilled). Its immature buds and leaves can also be distilled to form petitgrain bigarade, a wonderful oil that has a verdant accent against the backdrop of floral and citrusy tapestry. Sweet Valencia type orange (citrus sinensis), on another hand, produces a sweet, fruity oil that is frequently used for isolation of limonene and other derivatives. In fragrance, it can add a sweet radiant quality, especially when blended with white florals. Some of my favorite orange combinations are with neroli, which seem to produce the most interesting result—innocence of orange blossom with a fruity radiance of sweet orange peel.
Clementine, mandarin, tangerine and kumquat come from different species of citruses and have different olfactory characteristics. Of these, mandarin is one of the most frequently used in perfumery for its mild, sweet, but unusually complex scent. It seems to accent leather accords particularly well, adding a glowing quality, even if the actual note is blended well. Like mandarin, clementine (Citrus clementine) is used for peel (oil of clementine) and the leaves steam-distillation (clementine petitgrain), which is the sweetest and gentlest petitgrain out of all I have sampled.
Finally, my personal favorite citrus note is yuzu (Citrus junos), which is solvent extracted from the peel of a Japanese fruit. The tart, dry aroma reminiscent of green grapefruit has a very uplifting quality. Moreover, the tart yuzu note can add longevity to other more volatile citrus blends, persisting well into the heart of the composition.
However, while citrus notes are commonly used for the top notes and their sparkling feel, other plants can be incorporated to much the same effect. Litsea cubeba, by way of example, contains about 75% of citral, which gives it a lemony scent, high valued for prolonging more fleeting citrus notes. Lemon myrtle (Leptospermum citratum, or Lemon tea tree) is native to Australia and New Zealand contains about 90-95% citral, and is indeed more lemony than lemon itself.
Perfume containing citrus notes (the length of this hardly a comprehensive list points to the importance of citrus notes in perfumery. Please add your favorites!):
Bergamot: The Different Company Divine Bergamot, Christian Dior Miss Dior, Parfums de Nicolaï Cologne Sologne (also contains lime and lemon), Guerlain Eaux (Eau de Coq, Eau Impériale, Guerlain Eau De Fleurs De Cedrat, Eau de Guerlain), Etro Palais Jamais, Ormonde Jayne Ormonde Man, Robert Piguet Bandit, Chanel Bois des Iles, Chanel No. 19, Guerlain Shalimar, Guerlain Jicky, Guerlain Mitsouko, Guerlain Parure, Guerlain Rose Barbare.
Clementine: Guerlain Aqua Allegoria Orange Magnifica, Yves Saint Laurent Cinéma.
Grapefruit: Guerlain Aqua Allegoria Pamplelune, Hermés Un Jardin Sur le Nil, Ormonde Jayne Osmanthus (pomelo), Yves Saint Laurent In Love Again, Yves Saint Laurent Baby Doll.
Kumquat: Givenchy Xeryus Rouge, Kenzo Jungle Le Tigre.
Lemon: Carthusia Mediterraneo, Etro Shaal Nur, Etro Lemon Sorbet, Les Parfums de Rosine Un Zeste de Rose, Crown Perfumery Crown Esterhazy, L'Artisan Parfumeur Thé Pour Un Eté, Annick Goutal Eau d'Hadrien, L'Artisan Parfumeur Zeste d'Ete, L'Artisan Parfumeur L'Eau del'Artisan, Guerlain Coriolan, Guerlain Eau De Fleurs De Cedrat, Guerlain Shalimar (also bergamot), Shalimar, Eau Légère (also bergamot), Guerlain Aqua Allegoria Lemon Fresca, Christian Dior Eau Sauvage, Caron Alpona (also grapefruit and bergamot), Miller Harris Citron Citron.
Lime: Annick Goutal Eau de Sud, Givenchy Monsieur de Givenchy, Guerlain Habit Rouge, Guerlain Aqua Allegoria Gentiana, Hermès Eau de Merveilles, Parfums de Nicolaï Balle de Match, Christian Dior Diorella, Parfums de Nicolaï Grandes Vacances, Penhaligon's Quercus, Montale Aoudh Lime.
Mandarin: Serge Lutens La Myrrhe, Comptoir Sud Pacifique Mandarin, Caron Eau de Caron Fraîche/Eau de Cologne (also contains lemon and grapefruit), Frédéric Malle Editions de Parfums Le Parfum de Thérèse, Jean Patou Sublime (also contains orange), Chanel Coco, Chanel Cuir de Russie (and bergamot in top notes), Chanel Allure (also contains bergamot), Guerlain Cuir Beluga, Serge Lutens Datura Noir, Serge Lutens Cuir Mauresque.
Orange: sweet orange–Aqua di Parma Mediterraneo Arancia, Guerlain Aqua Allegoria Orange Magnifica, Fragonard Orange Cannelle, Christian Dior Dioressence, Chanel Coco Mademoiselle (also contains bergamot), Caron En Avion, Guerlain Vol de Nuit (also lemon, mandarin); blood orange– Maître Parfumeur et Gantier Sanguine Muskissime; bitter orange–Frédéric Malle Editions de Parfums Cologne Bigarade, Caron Montaigne, Hermès Eau d'Orange Verte, Iunx L'Eau Frappe No. 6 (also lemon).
Petitgrain: Gobin Daudé Parfums Jardins Ottomans, Christian Dior Eau Sauvage, Caron Narcisse Blanc, Annick Goutal Le Chèvrefeuille, Jean Patou Cocktail.
Tangerine: Iunx L'Eau Latine No. 7, Parfums Delrae Amoureuse, Chanel Cristalle (also lemon), Miller Harris Tangerine Vert.
Yuzu: Boucheron Jaïpur Saphir, Cartier Eau de Cartier Extrême, Diptyque Oyedo, Parfums 06130 Yuzu Rouge.
References: Morris, Edwin T. 1984. Fragrance: The Story of Perfume from Cleopatra to Chanel. E.T. Morris and Co., New York.
Article was originally published on July 24, 2005.  
Photography by Bois de Jasmin