A Greek legend tells a story of the flower blooming from the blood of Hyacinthus, a youth accidentally killed by Apollo. Remembrance is the meaning tied to it. Unlike the more delicate lily of the valley, everything about hyacinth is bolder and more vivid–the masses of star shaped flowers on thick stems, the heft of blossoms, the headiness of perfume. This intoxicating sweet fragrance, almost oily in its magnificent richness, has been praised in the Persian poetry, mentioned in the Bible as Lily of the Valleys and loved by the Marquise de Pompadour. It inspired people to sell their possessions during the bulb craze of the seventeenth century and influenced perfumers to capture the enthralling fragrance which is rich, voluptuous, yet intriguingly spicy and green. Indeed, its unique qualities make hyacinth a fascinating note to explore.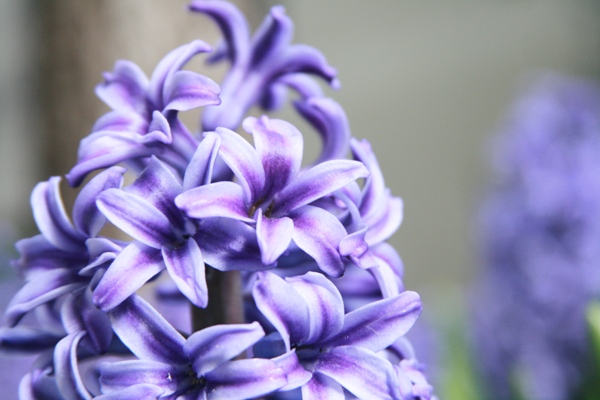 The jewel-toned, succulent petals of hyacinths are stubborn in giving away their essential oils, and although the oil of hyacinth is used—usually in the costliest of perfumes, the note tends to be rendered via synthetic means. Traditionally, the hyacinth note would be constructed as a base, relying on several different aroma-materials to provide a desired effect—phenylethyl alcohol for a rosy touch, benzyl acetate for a fruity jasmine facet, cinnamic alcohol for a spicy edge, etc. Indeed, the same materials can be used in different proportions to create jasmine, lilac, lily of the valley or hyacinth bases. As a result, unless the base has a strong character, when used in a composition, it tends to vanish into a nondescript floral effect.
However, when the accords are successful, the results can be truly excellent. The verdant leitmotif running through the legendary Chamade by Guerlain is reinforced by the freshness that hyacinth brings to the arrangement. The harmony of its seamless green notes is so remarkable that it is impossible not to marvel at the genius of the composition. Framed by the woody-ambery accord enriched with vanilla, the green floral notes possess the quality of heavy opalescent satin that veils a beautifully sculpted form.
A green accent is the main role of hyacinth, which it can play equally well in both feminine and masculine fragrances. It lends a fresh touch to mango in Hermès Un Jardin sur le Nil, softens galbanum sharpness in Chanel No. 19 and Balmain Vent Vert, and adds complexity to the green accord of Jil Sander Woman III, a ravishingly sensual chypre with traditionally masculine notes. Since hyacinth and lily of the valley and especially their corresponding aroma-materials tend to lack the fruity sweetness, they are the notes of choice for masculine compositions. The classical lily of the valley synthetic is hydroxycitronellal. Lilial, an aroma-material with the fresh, floral character reminiscent of lily of the valley and cyclamen is used both in the masculines like Paco Rabanne by Paco Rabanne and the feminine fruity-florals like Prescriptives Calyx. Marc Jacobs for Men layers its fig accord with a beautiful lily of the valley note provided by Super Muguet, while modern fougères like Paul Smith Men, Rome Gigli Sud Est and Calvin Klein Eternity Summer for Men amplify their aromatic top notes with the hyacinth nuance. A green hyacinth note is hidden in the heart of Nino Cerruti and Aramis Devin. A masculine fragrance with the most pronounced hyacinth note I am familiar with is Chamade Pour Homme, a Guerlain 1999 limited edition. Jean Paul Guerlain folded the accord of hyacinth, coriander and violet into the warmth of patchouli, labdanum, vanilla and cedar leaves, thus creating an interesting counterpart to his feminine fragrance.
The rich aspect of hyacinth can also find its way into fragrance. Jean Patou Chaldée was first introduced in 1927 as suntan oil, and the rich sweetness of hyacinth marries perfectly with the gilded ambery base. Intoxicating like a feeling of being in love, Annick Goutal Grand Amour embellishes the voluptuous heft of hyacinth with the freshness of honeysuckle, apricot jam sweetness of jasmine and warmth of amber. The composition would have been unbearably heady were it not for an intriguing twist–a cold breath of myrrh. Another lush bouquet is Jean Claude Ellena's composition for L'Artisan, La Haie Fleurie du Hameau. A classical floral tribute to the gardens of Marie-Antoinette in Versailles, it is appropriately luxurious, with the dominant notes of jasmine, honeysuckle and hyacinth spilling onto the oakmoss laden base.
Although hyacinth usually serves as a supporting note, L'Artisan Jacinthe de Bois and Penhaligon's Bluebell allow it to take the center stage. The former conjures the scent of first forest flowers, still bearing the traces of earth and the drops of melting snow. The latter is a fragrance that I never grew to appreciate. It is thin, yet remarkably persistent, and after an unfortunate experience involving a shattered bottle, I understand what the expression "to be haunted" truly means. To avoid ending on such a tragic note, I would like to offer an additional list of fragrances containing hyacinth:
Anaïs Anaïs by Cacharel
Capricci by Nina Ricci
Capucci de Capucci
Coeur Joie by Nina Ricci
Climat by Lancôme
Cristalle by Chanel
Deneuve by Catherine Deneuve
Eau d'Eden by Cacharel
Eclipse by Parfums de Nicolaï
Envy by Gucci
Givenchy III by Givenchy
Mimosaique by Parfums de Nicolaï
Mystère by Rochas
Nahema by Guerlain
Paloma Picasso Mon Parfum
Pavlova
Pois de Senteur de Chez Moi by Caron
Secrète Datura by Maitre Gantier et Parfumeur
Snowdrop & Crystal Flowers #3 by Trish McEvoy
Talisman by Balenciaga
Violetta di Parma
Vacances by Jean Patou
Please see Part I: Spring Flower Bouquet ~ Lily of the Valley.