Elisa on stress and the gourmand ways to fight it.
I suspect there are those among you who, on an especially rough day, derive comfort from an elegant classic like Chanel No. 19 – perhaps because your mother wore it, or perhaps because the orris, vetiver, and galbanum are cool like a hand on a fevered head. I can claim no such level of sophistication. My comfort scents are the equivalent of crème brûlée, which is to say, sugar and fat: perfume as mouthfeel.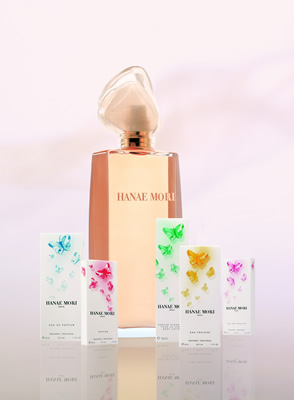 I was recently in one of those moods, what Holly Golightly would call "the mean reds," when such a palliative is called for, and my mind immediately went to Hanae Mori. The original Hanae Mori for women, sometimes known as "Butterfly" due to the bottle design, is a first-generation gourmand. Created by Bernard Ellena in 1995, just three years after Angel, Hanae Mori borrowed the apparently new idea of layering fruit over caramel, but skipped the massively pungent patchouli note that made Angel so shocking. Butterfly, instead, was content to be pretty.
Spray it on and you'll smell a facsimile of a fruit tart from a French bakery: berries arranged just so and glistening with apricot jam. The primary fruit note is strawberry, but it's more abstract than literal – like a pop-art painting of a strawberry. This big pink glow is offset by a deliciously creamy base, all the materials chosen for richness. There's the custardy aspect of ylang-ylang, the milky aspect of sandalwood, plus a toasted almond note like nuts in a graham cracker crust. It's not just melted sugar (ethyl maltol), but caramel sauce with butter and cream.
It might all be too much, but what keeps Hanae Mori on the right side of history is the delicate florals – rose, jasmine, peony – and a slightly sharp, soapy green note, similar to the dish-soap note in Rochas Tocade but with half the intensity. This is just enough of an edge to remind you this is a grownup perfume and not a pre-teen body spray (or an actual cupcake). To be sure, you need to like gourmands to wear this; if you do occasionally have a perfume sweet tooth like me, this is one of the best.
Hanae Mori "Butterfly" includes notes of black currant, wild strawberry, blackberry, blueberry, jasmine, ylang-ylang, rose, peony, sandalwood, Virginia cedar, Brazilian rosewood and almond tree. It's available at stores like Macy's and Sephora for $130/100 ml and $99/50 ml.