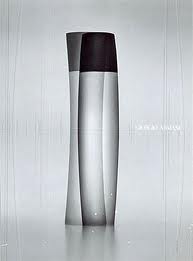 If you would like to discuss your favorite discontinued perfume, please email me at editor at boisdejasmin dot com. 
My "Long Lost Favorite" series has received a couple of requests for Giorgio Armani Mania. I am glad it is one of the fragrances you are curious to replace, because it has been among my favorite perfumes.  Armani has several Manias on the market today–Armani Mania Pour Elle, Armani Mania Pour Homme as well as a numerous summer flankers, but none have the sultry character of the 1999 original Mania. Created by Jacques Cavallier, it included notes of bergamot, orange blossom, green notes, clove, nutmeg, saffron, amber, white musk, incense, and vanilla. After the shimmering citrus and cinnamon notes, Mania revealed a velvety heart of incense and amber. Unlike most fragrances that rely on rich woods and amber, Mania was radiant and easy to wear. It felt like a silk wrap, rather than a fur coat. Why on earth did Armani discontinue it?
Once Mania disappeared, I turned to two other fragrances in the same Woody Oriental family —Alexander McQueen Kingdom and Issey Miyake Le Feu d'Issey. Both were also created by Cavallier and both were subsequently discontinued. It made me wonder if Cavallier had a magic touch for creating challenging and polarizing perfumes–a good thing in my book. His Christian Dior Midnight Poison is heavier on rose and patchouli than Mania, but it has a similar smoldering character. Likewise, Tom Ford Noir de Noir, another Cavallier creation done in collaboration with perfumer Harry Frémont, is worth sampling. It is a dramatic blend of saffron, incense and dark roses. Mania is much lighter and brighter in comparison, but I enjoy Noir de Noir's richness.
The caramelized woods in Mania also recall the gourmand accord of Sensuous Noir. This Estée Lauder flanker to the original Sensuous tries to go to the dark side, but the sparkling citrus notes keep it balanced and easy to wear. Frédéric Malle Noir Épices and Jo Malone Black Vetyver Café are a stretch from the voluptuous Mania, but they remind me of its elegant woody facet.
Any other ideas? What fragrance smells like Mania to you?