I don't often think of Marie-Antoinette whenever I use orange blossom water, but perhaps I should. By the time the French queen was playing shepherdess in Versailles, the cultivation of bitter orange trees in France was a long standing tradition solely for the purpose of producing this perfumed liquid.  The aromatic distillation of fresh blossoms scented the linens of the nobility. It found its way into Marie Antoinette's beauty preparations. It flavored madeleines, little French butter cakes that Marcel Proust immortalized in The Search for Lost Time. Relaxing with a cup of Café Blanc or Orange Blossom and Mint Lemonade is a luxury but thank heavens it's no longer reserved for the royalty.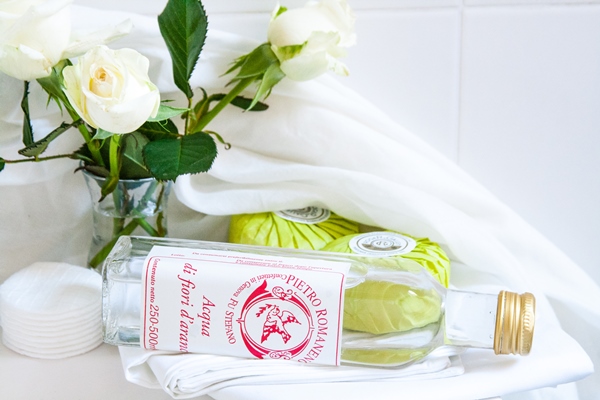 If you've never used floral waters, it might seem that they are best suited for pink girly desserts and incurable romantics. But while I admit to being a romantic, rose and orange blossom waters are remarkably versatile. A mere hint can give a familiar dish a new, haunting flavor, and you only need take a page from traditional cuisines–from Provence to Morocco, to see how diverse the use of floral waters can be. Once you start experimenting, I have no doubt that you'll invent new recipes.
This is a companion piece to my 10 Ways to Use Rosewater. You can treat orange blossom water in a similar manner, but its sweet and green flavor has its own unique potential. The same notes apply though: a little goes a long way, and since every brand of orange blossom water differs in terms of its potency, follow your nose and taste buds, rather than recipe instructions.
1. Orange Blossom Bath
Mix 2-3 cups of warm milk, 3 Tablespoons of honey and 1/4 cup of orange blossom water. Add to your bath water. Close your eyes and dream of Sicilian orange groves. Your skin will look and feel like satin.
Orange blossom is excellent for skin, especially if yours is oily and sensitive. It calms redness and soothes irritations, which is why in France it's a traditional additive to baby products. Like rosewater, it can replace your usual toner, but be sure the floral waters you use for skincare are pure, natural distillations (see shopping notes below).
2. Hand Freshener
There is an old Middle Eastern tradition whereby guests are greeted and bid farewell by a sprinkling of water mixed with either rose or orange blossom. I like to revive this custom at home by offering a hand bowl filled with orange blossom scented water at the end of dinner. If you've served finger foods, this is especially appreciated. Your guests can then leave well-fed and perfumed.
3. Natural Room Scent
How do you make your house smell like the South of France? Pour a few drops into a bowl of boiling water and leave it in your bedroom. As the water evaporates, the delicate orange flower perfume will fill the space. Since orange blossom essence is known for its calming, comforting properties, it's something I love to doing before we go to sleep. You can also sprinkle your bed sheets with orange blossom water, but it can stain some fabrics, so test it on a small patch first.
4. Puddings and Ice Cream
Panna cotta, custard, mousse, rice pudding–anything creamy and milky will take on the addition of orange blossom (or rose) water gratefully. I use a touch of orange blossom to give a nursery favorite an adult twist in Rice Pudding with Vanilla and Orange Blossom.
Orange blossom is also heavenly when mixed into white chocolate based sauces and desserts. You can also pair it with cream to make a delicious tart filling. Whip heavy cream with sugar, add a few drops of orange blossom water. If you have a handful of berries and pre-baked tart shells on hand, you're minutes away from a decadent dessert.
Here's another idea I love: take store-bought vanilla ice cream, let it soften slightly and add a few drops of orange blossom water (4 teaspoons per pint, or to taste). Mix well, chill and serve. Or if you make your own ice cream, add orange blossom water to the custard before freezing it.
5. Fruit Desserts
If rose is a natural partner for raspberries, orange blossom marries especially well with strawberries. Some varieties shares the same aromatic compounds with orange flowers, and adding a little bit of orange blossom water to a strawberry based dessert will enhance the flavor.
Another excellent pairing for orange blossom water is apricot–tarts, compotes, jams, cakes, drinks. Sprinkle apricots with sugar and lemon juice and bake them in a 400F/200C oven till the sugar caramelizes and apricots soften. Drizzle with orange blossom water and serve hot or cold. Try apricot juice mixed with orange blossom water and sparkling water.
6. Orange and Orange Blossom
Any citrus will love a hint of orange blossom, but lemons and oranges even more so.  You can try mixing in a 1/4 teaspoon of orange blossom water into a glass of orange juice for a refreshing drink. Add it into orange marmalade, store bought or homemade. Or try the Moroccan style orange salad I shared in my Two Orange Salads Against Winter Blues article.
7. Vegetable Salads
Orange blossom is not just for desserts. You've probably tasted it in more savory prepared foods than you realize. Used in small quantities, it can add an intriguing, memorable twist. One of my favorite vegetable pairings is with cucumber. Add 3 teaspoons for every pound of cucumbers and season with salt and lemon juice. Try orange blossom water in a simple lemon-olive oil vinaigrette (2 Tablespoons of olive oil, 1/2-1 Tablespoon of vinegar, 1/2 teaspoon of orange blossom water, salt, pepper) and use it to dress green salads.
Another inspired combination can be found in classical Moroccan cuisine. Mix grated carrot with olive oil, lemon juice, orange blossom water and a sprinkle of cinnamon. You will taste carrot in a completely new guise.
8. Breads, Pastries and Pancakes
Those who quote Marie-Antoinette quipping "let them eat cake" not only attribute it to the wrong person, they also mistake the edible. The phrase is "Qu'ils mangent de la brioche!" And the brioche in question is a sweet, eggy bread. It would certainly have been orange blossom flavored. Until the cost of sugar dropped in the 19th century, brioche was sweetened either with honey or a mix of sugar and honey. Orange blossom gave a more refined flavor and softened the pronounced taste of honey. Today, French specialties like gibassier or fougasse à la fleur d'oranger, sweet brioche like pastries, continue this tradition. The honey has been replaced by sugar, but the orange blossom remained.
You can also try adding orange blossom water to your favorite sweet bread, crepe or pancake recipes. For another pastry idea, please see our Persian Orange Blossom Cookies.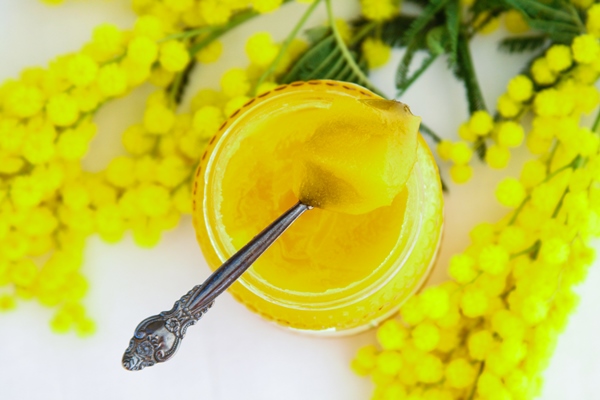 9. Honey and Orange Blossom
This is another of those "match made in heaven" pairings. Orange flower tones down the waxy, animalic notes of honey, while honey enhances the floral facets of orange blossom. Try adding it to any dish in which you would use honey, even a honey marinade for meat (a few drops would be enough). Or mix honey and orange blossom water till you have a creamy emulsion and spread it over a piece of toast. If you think that you can't have too much of a good thing, then add a layer of butter too. Orange blossom works perfectly with butter, but then again, what doesn't?
10. Mineral Water
It's sweltering hot and your clothes stick to your body. Add 1/4-1/2 teaspoon of orange blossom to a glass of cold water and you have one of the best refreshments. In the summer, I add orange blossom water directly to the filtered water I chill in the fridge, so that we can enjoy it throughout the day. Orange blossom makes water taste sweeter and softer.
Also, please see my recipes for Café Blanc and Orange Blossom and Mint Lemonade for other orange blossom scented beverages.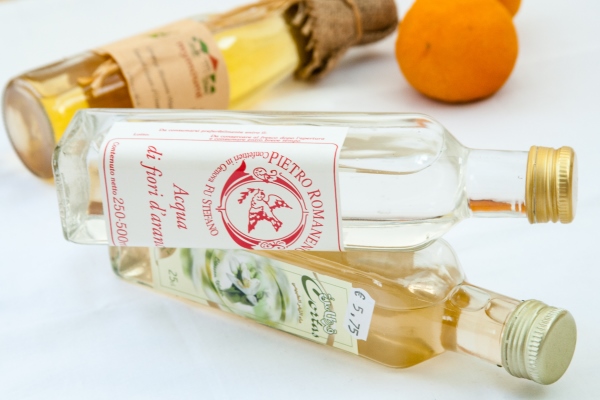 Orange Blossom Water Shopping Notes
Just like rosewater, orange blossom water can be natural or reconstituted (ie, a mix of distilled water and natural or synthetic additives). The reconstituted orange blossom waters I've tried smelled so sharp and raspy that I would steer clear of them.
I like the Lebanese Cortas brand, which is a pure orange flower distillate. I'm somewhat evangelical on the subject of Mymoune, and I mention this brand every single time I talk about floral waters, but it's worth discovering. The quality of their products is spectacular, and this women's cooperative is a wonderful initiative too. There are other excellent brands, so when you shop look out for "distilled bitter orange blossom water" or "obtained by natural distillation" on the ingredient label. As you can see from the price tag that I forgot to remove before I took the photo, natural orange blossom water is an inexpensive treat. Click on the orange blossom water tag for more shopping information.
It's also a fairly delicate ingredient, and it's best to keep it in a cool, dark place, or before long, it will smell of moth-balls, rather than white orange petals.
Do you have favorite ways of using orange blossom water? If you have shopping suggestions for orange blossom water or favorite brands, please share.
Photography by Bois de Jasmin