Andy dreams of finding a fragrance that smells of jasmine tea.  
In concept, L'Artisan Parfumeur's Thé pour un Été sounds like the perfect perfume for a tea lover like myself. Created in 1995 by Olivia Giacobetti, Thé pour un Été is meant to evoke the experience of sipping an icy glass of jasmine tea on a hot day. Unfortunately, my experience of repeatedly trying this perfume has felt more like sweating it out in the sun, still waiting for that glass of iced tea to come my way.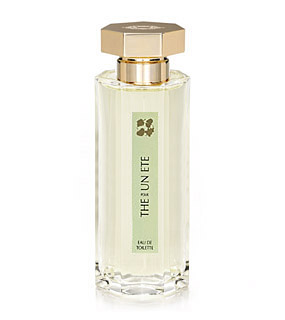 Soon after applying Thé pour un Été though, I am quickly reminded of its more interesting older cousin, Bulgari's Eau Parfumée au Thé Vert. Where Thé Vert seems fresh and original, I don't find nearly as much creativity in Thé pour un Été, which embellishes a familiar green tea accord with citrus, gauzy jasmine, and crisp herbs.