Andy dreams of finding a fragrance that smells of jasmine tea.  
In concept, L'Artisan Parfumeur's Thé pour un Été sounds like the perfect perfume for a tea lover like myself. Created in 1995 by Olivia Giacobetti, Thé pour un Été is meant to evoke the experience of sipping an icy glass of jasmine tea on a hot day. Unfortunately, my experience of repeatedly trying this perfume has felt more like sweating it out in the sun, still waiting for that glass of iced tea to come my way.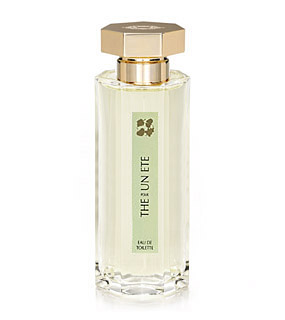 Soon after applying Thé pour un Été though, I am quickly reminded of its more interesting older cousin, Bulgari's Eau Parfumée au Thé Vert. Where Thé Vert seems fresh and original, I don't find nearly as much creativity in Thé pour un Été, which embellishes a familiar green tea accord with citrus, gauzy jasmine, and crisp herbs.
At first inhale, Thé pour un Été brings together a refreshing burst of lemon, bergamot, and a touch of mint. Shortly thereafter, what comes to the forefront is a crisp, clean jasmine atop a simple green tea accord. Everything is held smoothly together by a base of feather-light, blurry musks. But Thé pour un Été entirely lacks tenacity. In warm weather, I have found it so fleeting that I might as well have skipped wearing any perfume.
No matter how many times I try it, I don't find Thé pour un Été enjoyable. But the same goes for many green tea fragrances. Rather than conjuring exotic tea leaves, many "green tea" accords evoke little more than a headache for me. I find the bright, soaring radiance of citrus set against misty florals to be akin to staring into the sun—without something to counteract the brightness, the accords can smell blindingly intense to me.
My personal tastes aside, I also find Thé pour un Été an expensive way to find refreshment, given that you need to douse yourself with it generously. L'Occitane's relatively affordable and now discontinued Thé Vert au Jasmin came close to my fantasy version of jasmine scented tea, with a light touch of bitter woodiness that cut through the radiance of its floral accord. Now, my search for a jasmine tea perfume will have to continue. Until I've found it, though, brewing a cup of richly perfumed jasmine tea now and again will satisfy my tastes.
Or perhaps, you can help with some suggestions for other interesting jasmine tea perfumes?
L'Artisan Thé pour un Été Eau de Toilette includes notes of jasmine, green tea, mint, and lemon. Available at Luckyscent, Aedes, Barney's, Neiman Marcus and other L'Artisan counters. 100ml/$145.