Roses have been on my mind a lot lately, and not simply in the form of rose jam and rose tea. I received a small challenge to compile a list of fruity rose perfumes for a project, and the trail behind me has been rose scented for the past two weeks. It was a challenge, because rose paired with fruit is such a common pairing that any comprehensive list means hundreds of fragrance tests. Why so? Rose essence naturally contains many nuances reminiscent of raspberries, strawberries, red currants or apples, depending on variety. Highlighting them with richer fruity notes makes for a harmonious blend.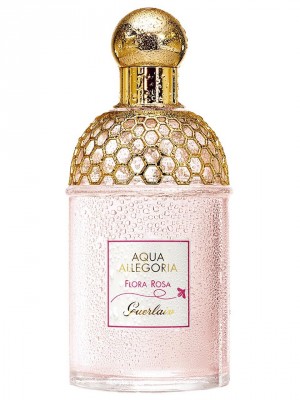 Harmonious is fine, of course, but how do you make it distinctive? This is the question I've posed often when testing fruity roses, and in particular, the latest from Guerlain, Aqua Allegoria Flora Rosa. The conclusion I've reached is that it's possible if the perfumer wants to go big, bold and glamorous (think Frédéric Malle Lipstick Rose with its dark raspberry) but more complicated if the aim is lightweight and pretty. Flora Rosa is all air kisses and smiles, a charming blend of red currants and pink roses.
Everything about Flora Rosa is designed to hook you, while shying away from making a statement. At first, it has a citrusy inflection reminiscent of green tea with lemon, but red currants are prominent enough to make the tea illusion vanish. When I first smelled it, I could almost taste the juicy, tart berries, including the mild green bitterness of their seeds and stems. The rose core of the fragrance is comprised of all sheer, transparent floral notes, with enough watery jasmine (hedione) to give the perfume an airy, radiant quality. Not even a dose of musk that comes up later weighs down the fizzy, sparkling effect. It reminds me of a red currant compote I make at this time of year–a medley of quickly stewed berries flavored with a splash of rosewater. Serve over ice cream, yogurt or crepes, it's a versatile summery dessert.
Flora Rosa is likewise summery and versatile. No, it's not the ultimate in fruity roses. If you've smelled enough fruity florals, with roses or other flowers as the main ingredient, you will recognize the theme. The reason I find it compelling is quality. The berries are sparkling and tart, without sharpness or aggressive acidity. The rose is sheer and bright. The white musk is soft and creamy, betraying not a hint of laundry detergent. It lasts well and makes for a lovely rose sillage. It may not be an olfactory revelation, but it's darn pretty. And what's wrong with pretty?
Flora Rosa is part of the duty-free offerings, and if you travel by air this summer, give it a try. It will also appear at various discounters in due course of time, so those in the market for a fresh, pretty fragrance will enjoy its frilly layers. Simple but fun.
Meanwhile, for more airy fruity roses, please see my Japanese Roses list (Japanese women have a particular affection for this genre). If you have your favorites, I, of course, would love to hear about them.