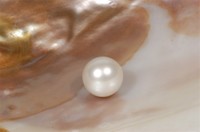 Star rating: 5 stars–outstanding/potential classic, 4 stars–very good, 3 stars–adequate, 2 stars–disappointing, 1 star–poor.
In many ways, Chanel No 22 is the quintessential aldehydic* fragrance. It is difficult for me to envision a better classical treatment of aldehydes. While No 5 is much more well-known and praised, I find the delicate beauty of No 22 to be particularly exquisite. Vivid and tender, it alternates between elegant aloofness and sweet warmth, all the while being polished and seamless. If pearls had a scent, their lustrous smoothness would be redolent of No 22….
With its composition of white flowers, No 22 was launched as a perfume capturing the spirit of White Look. Its creator was Ernest Beaux, a genius perfumer responsible for many Chanel gems, including No 5, Gardénia, Bois des Îles and Cuir de Russie. Michael Edwards mentions in his book Perfume Legends that No 22 was one of the samples presented to Coco Chanel when she was looking to launch her first perfume. While she selected the sample that became No 5, No 22 was introduced in 1922, a year after No 5. A classical aldehydic floral, it opens up with the sparkle of aldehydes, their slightly starched and metallic tonality lightening their powdery effect.
The scintillating white foil of aldehydes is a perfect backdrop for the sweet floral accords, softening their opulence and smoothing the heady elements into satiny perfection. The heart of No 22 is comprised of beautifully indolic jasmine, orange blossom, and also the green tartness of lilac and the buttery sweetness of rose. Paired with the woody and vanillic notes of the base, the fragrance assumes a radiant and lush character, with chiffon like lightness.
As is usually the case, the parfum concentration is superior as is the quality of the flower absolutes. The difference between the parfum and the EDT is like that between cake made with dark chocolate and one flavored with bittersweet cocoa powder. In other words, both are luscious, but the former is much more so. The parfum stays closer to the skin, creating a soft, intimate effect that I prefer to that of the sharper, brighter EDT.
Chanel No 22 is part of Les Exclusifs collection, which also includes Gardénia, Bois des Îles and Cuir de Russie. It is soon to be joined by Coromandel, 28 La Pausa, Bel Respiro, No. 18, 31, rue Cambon, and Eau de Cologne. The official list of notes for No 22 is as follows: orange blossom, peach, citrus, orchid, rose, ylang-ylang, sandalwood, vetiver, vanilla. Available from Chanel boutiques. Please note that Chanel is changing the packaging of its Les Exclusifs collection; therefore, if you have a preference for the original flacons, be sure to act quickly. Adding to clarify: the parfum versions of the existing Les Exclusifs collection are not being discontinued.
*
Aldehydes
are organic compounds present in many natural materials (eg. orange rind and cinnamon bark). Various aldehydes can also be synthesized artificially. There is hardly a fragrance without some type of aldehyde in it; however, it is the vividness of aliphatic aldehydes (a specific subgroup of the aldehydes family) that gives No 5 and No 22 their characteristic impressionist sparkle.
Photo of freshwater pearl from Pearls and Jade.