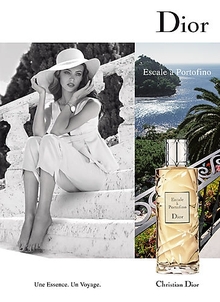 Star rating: 5 stars–outstanding/potential classic, 4 stars–very good, 3 stars–adequate, 2 stars–disappointing, 1 star–poor.
In sartorial terms, an effervescent citrus cologne is as versatile and timeless as a tailored suit or a little black dress. It is immediately appealing and effortlessly chic, while still having a striking presence. Yet, eventually all little black dresses start to look similar, and all colognes exhibit that familiar fresh burst followed by floral sweetness or woody dryness. As one knows all too well, familiarity breeds contempt. In this light, I have put the newest cologne offering, Christian Dior Escale à Portofino, to the test.
I would note that Escale à Portofino should be differentiated from classical colognes like Eau de Rochas and Ô de Lancôme. Traditional colognes, which constitute one of the oldest perfume families, have an aromatic, fresh structure reinforced by the dryness of woods. They unfold in layers of camphorous and bright herbal notes, while their citrus facets tend to be in the lemon-bergamot family accented with the floralcy of neroli. On the other hand, modern colognes are softer, being wrapped in warm veils of musk, rather than in sharp pencil shavings of cedarwood. They feature jasmine notes and orange blossom in a manner that makes them rather gentle and radiant, hinting at sun warmed skin rather than shower clean freshness. Yet, what they still offer is the elegance of a little black dress.
Yes, Escale à Portofino is indeed citrusy and bright. Its orange blossom is classically clean and sweet, with just slight haunting indolic note. It is very refined and elegant, with no imperfection in sight to make it dramatically different from other orange blossom colognes. Still, in its genre—which is supposed to be elegant, light and rejuvenating, Escale à Portofino is one of the best. In comparison to the dark and somber orange flowers of Tom Ford Neroli Portofino, it is luminous, airy and yet remarkably tenacious. It is more floral and playful than the austerely chic Chanel Eau de Cologne. Finally, it provides a glimpse of a perfect summer fantasy—sun dappled beach, white-washed stones of the Mediterranean and endless expanse of blue sky. I imagine that in the winter such a magic carpet ride would be particularly pleasant.
Escale à Portofino includes notes of Calabrian bergamot, Italian citron, Sicilian petitgrain, bitter almond, orange blossom, juniper berry, cold spices, cypress, cedar, white musk, caraway and galbanum. Available from Dior boutiques and other select locations.
Definitions: neroli – steam distillation of bitter orange flowers. Please do not hesitate to ask in the comments if any other terms are unfamiliar to you.