As far as the French language goes "Pamplelune" is a portmanteau that combines the French word for grapefruit (pamplemousse) with the French word for moon (lune). In the perfumista's lexicon, however, Pamplelune denotes the 1999 fragrance by Mathilde Laurent for Guerlain for its original Aqua Allegoria line.  As a grapefruit scent, it is both revered and feared; whether one can wear this take on sulfuric citrus depends on whether one associates grapefruit with fruit or with funk.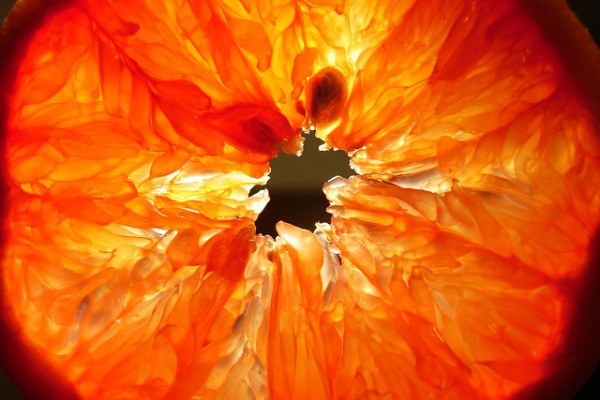 Although the Aqua Allegoria line is meant to showcase lighter, less complex fragrances, Pamplelune is anything but simple.  After the explosive opening it follows through with tart/sour bergamot and twiggy petitgrain notes before morphing into a cheerful black currant-accented floral that is tethered to a sweet and vanillic patchouli base.
Pamplelune surges forward with a sensational grapefruit note that seems almost spontaneous; it is exactly like cutting into the yellow globe and smelling/tasting all of it at once:  peel, fruit, stinging white pith.  The naturalness of the note is shocking, especially in light of the synthetic citruses that shine happily from the shelves of Sephora with their lemons and oranges calibrated to appeal to everyone and offend no one.  One smell of Pamplelune shifts reality back to where it should be, in nature.
At first I wasn't able to wear it at all.  I recall standing in line at a store and sensing shockwaves of grapefruit around me; did anyone else notice?  It was all I could smell, hours after I first applied it.  Not polite breakfast grapefruit but something more darkly dynamic and potent.  This was guerilla grapefruit juiced onto hot patchouli and I was not ready for its freewheeling spin from citrus cologne to hippie hedonism, with the dangerous and famous sulfur fumes fueling the ride.
It is now one of my favorite scents, eminently wearable, worthy of five stars, the perfect antidote to almost everything: a bored nose, too much winter, a dull day, an enervated palate, a spring-less step.  From the first spritz to the last (I apply it regularly), it is chilled, dark perfection.  The grapefruit impasto is at first opaque and unyielding, an artsy twist on the normally effervescent citrus.  Hot skin activates Pamplelune's basenotes, which are sweet and mellow against the grapefruit's sweet-sour bite.  The vanilla/patchouli of the base softens the citrus over time, until what remains is vanilla-sweet patchouli as mellow as the opening citrus was striking.
Pamplelune smells marvelous on me throughout, and at times I almost smell incense in the base, along with musk.  The softening of the fragrance doesn't trivialize it in the least; sweet patchouli isn't a cop-out.  This base reminds me how much I enjoy the vanilla/patchouli combination and how I proudly defend and admit to wearing patchouli when someone asks me if I am.  It turns out the people who ask are people who have bracketed youthful parts of their lives by the wearing of patchouli and they want to know the name of the scent.
It's as important a modern scent as anything else released in the last two decades, and one that must sell since it has held firm against frequent discontinuations in the rest of the Aqua Allegoria line.  I like that I can walk into the Sephora store inside the local J. C. Penney and buy a bottle when mine runs out; that makes it a perfume of the people in my opinion.  Wonderful juice, perhaps not for everyone, but absolutely transporting.  Pamplelune is grapefruit in a parallel universe that you should visit at least once.
Photography by 0streussel via flickr, some rights reserved.