In 1978, Estée Lauder launched White Linen as a part of a trio called "New Romantics."  The New Romantics also included Celadon (a green floral) and Pavilion (a white floral).  The three New Romantics scents were pioneers in the concept of fragrance layering.  The ad copy promised "three incredibly pretty fragrances designed to interact with each other.  Wear one.  Wear two.  Wear all three together."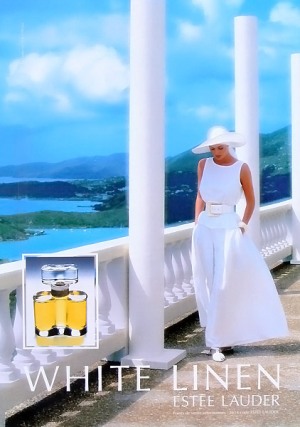 Celadon and Pavilion have been mostly lost to time, but Sophia Grojsman's White Linen was an immediate blockbuster that is still in the Lauder line-up three decades later.  To me White Linen smelled like nothing else out there while bearing a stylistic resemblance to Chanel No 22 (immense use of aldehydes over abstract white floral heart).  It smelled nothing like the big Orientals that had just taken hold, and if it were meant to be worn concurrently with Celadon and Pavilion the result would have been explosive (think about combining Pleasures and Beautiful). On its own, White Linen had a massive and imaginative signature.  To combine it with another scent of equal power would be unthinkable—in today's terms.  In the late 1970s, perfume was still constructed and worn boldly.
White Linen stood out from its two sister scents and quickly eclipsed them in sales. True to its name, it is more a texture than it is a scent, and it may well be the pioneer of the "laundry musk" category.  White Linen smells crisp as a sheet drying on a breeze, its floral notes ducking beneath the starchy aldehydes so that none is recognizable for what it is:  You will not smell lily of the valley, ylang-ylang, lilac, iris, jasmine, and rose.  Instead, you will be enveloped in a sharp olfactory harmony where you must take on good faith that these notes exist in this perfume.  White Linen will refuse any prying into its compositional secrets.
This is why, at a loss for words, only vague descriptors other than "sharp" and "clean" are offered.  White Linen dazzles with aldehydes, notes that give lift and sparkle; it's like staring into the sun.  Look away and the scent is all stiff crease and starch as the name states. One doesn't wear wilted linen.  The same applies to the namesake fragrance:  White Linen has formidable staying power in its clean and sculptured lines.  It also smelled, at its release, "modern."  Although its formula was reputed to contain civet, there was no "cat in a bottle" smell that marked early 20th-century perfumery.
The clean aspect of White Linen was perfectly suited to the end of the 1970s, an era marked by heavy-lidded Orientals and the emergence of women in the workplace. Nearly sterile in comparison to something like Youth Dew, White Linen was a tailored scent one could wear in a business setting.  It spoke of impeccable grooming more than it did of the advertised romance.  It smells efficient.  It doesn't fade.
In its 34th year, White Linen is ageless.  As unbelievable as it may seem, in its day it was understated. It wasn't meant to overpower but to be softly romantic, on its own or in conjunction with the other two in the set. Sophia Grojsman broke tremendous ground; her White Linen had far-reaching consequences for the fragrance industry:  Who knew in 1978 that fragrance-wears of the New Millennium would turn so happily to the clean, freshly laundered smell that White Linen so accurately prefigured?
Estée Lauder White Linen includes notes of aldehydes, citrus, peach, rose, jasmine, lilac, iris, lily of the valley, ylang-ylang, cedarwood, amber, honey, civet, sandalwood, and tonka beans. There is also a modern variation called Pure White Linen. Both White Linen and Pure White Linen are available from all Estée Lauder counters at various major retailers.