Do you wear Arpège or Miss Dior? Have you smelled Le Galion fragrances? In partnership with the Osmothèque, I offer you an excerpt from Indiscretions apropos of a new perfume, a 1943 magazine article by Michel Arbaud, which pays tribute to French perfumer Paul Vacher. Vacher worked at Le Galion and Guerlain, and he collaborated with many legendary perfumers on creations that still inspire us. He co-authored Miss Dior for Christian Dior in 1947 with Jean Carles, and Arpège for Lanvin in 1927 with André Fraysse. In the article, Vacher describes how he would create a seaside inspired perfume and what notes lend fragrance a sensual effect.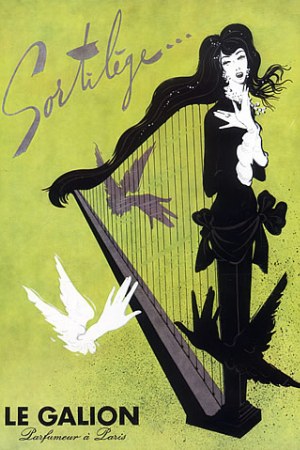 Vacher had an interesting approach to fragrance, but he's much less well-known to most perfume lovers than some of his contemporaries. Part of the pleasure of dipping into the Osmothèque's archives is hearing the voices of other creators, not only the most prominent ones. Vacher passed away in 1975, but Arpège remains an icon. Miss Dior has suffered somewhat post reformulation, but you can still smell it at the counter. In other good news, Le Galion is reintroducing its collection, including the exquisite Sortilège and Iris. Both were created by Vacher and reorchestrated by Thomas Fontaine, the current in-house perfumer at Jean Patou.
For other articles from the Perfumers on Perfume series, please see perfumers-on-perfume tag.
"The true creator of perfumes, not he who is satisfied by a decent mixture that is more or less novel, but he who ceaselessly searches for a new range of smells, rich in suggestion and reverie, always filled me with a somewhat superstitious admiration. A strange poet is he who has no words; a strange musician who uses no sound; a strange artist whose means of expression consist of a quantity of little labeled bottles that contain the essence, so variously aromatic or malodorous, of that in the world which touches most violently our olfactory nerves.
Paul Vacher is certainly among the most gifted of these sentimental chemists, these aesthetes of the laboratory. He has created numerous of the great perfumes that have triumphed during recent years under various brands. Today he creates for himself in his own house. It is there that I went to inquire as to what would succeed his delicious Sortilège and Brumes, the lastborn of his extraits, this smell of nature, alluding to a thousand aromatic plants, all so finely feminized.
'I have been seeking for quite some time," Paul Vacher told me, "a scent that smells of the sea. I began with a name: Embruns (spindrift) and an idea: the marvelous aroma of the shore, where combine the ocean's exhalations and those of the beach warmed by the sun. The seaside, in the glow of warm hours, when blows a mild offshore wind and, not far off, the heath is in bloom; know you anything that smells better? Alas, how difficult it is to express! … One needs something iodized, without the pungency of iodine. I distilled algae, kelp … A touch of oregano is needed and several floral notes; broom, gorse, a trace of acacia. Several seaside herbs — sage, marjoram, Breckland thyme — must lend, very delicately, emphasis. But it's terribly 'dicey'! The whole, evidently, must be powdered, tenderized, feminized. A woman must never ever smell of the sea. She must evoke certain hours of tenderness by the seaside, memories of happy vacations, emotions sublimated by the exhilarating climate of vast maritime horizons.'
Paul Vacher grows excited. He opens small mysterious bottles and has me smell their strange aromas. He is a sensitive poet who never stops breathing life into chemistry, and so it is that he achieves perfumes that possess a soul, that do more than touch the senses, that awaken the secret nostalgia, the unconfessed emotions and the suppressed ambitions within us all.
'I also dream,' adds my alchemist in a suit, 'of another extrait that will be called Rendez-vous. A fine title, is it not? … For which I must find a most sensational justification!'
'What note?'
'You are indiscreet … Well, so be it! I am in the mood for confidences. A woody note. Rosewood, Makassar, ebony, champak. Perhaps a bit of cedar. Obviously some vetiver and sandalwood.' "
Arbaud, Michel. "Indiscrétions à propos d'un nouveau parfum." Parfumerie Jan 1943. Print.
Translated from French by Will Inrig. Osmothèque, Versailles. 1 May 2014.
COPYRIGHT The Osmothèque 2014.
Image: ads for Paul Vacher's creations via the Osmothèque and legalion.fr
Osmothèque, the International Perfume Conservatory and Museum
36 rue du Parc de Clagny
78100 Versailles, France
Tel : 01.39.55.46.99
email: osmotheque at wanadoo dot fr
www.osmotheque.fr