Writer Nizar Qabbani (1923-1998) described his native city of Damascus as "the womb that taught me poetry, taught me creativity, and granted me the alphabet of Jasmine." Although the most fragrant of roses bears the name rosa damascena, Damascus rose, the Syrian capital is known as Madinat Al Yasmine, the City of ­Jasmine. Each fall it holds a festival in homage of this national flower, with people giving each other stems of jasmine and decorating their home with fragrant blossoms. It was even held in recent years, despite the conflict that left thousands dead and millions displaced, with flowers given to those who lost loved ones.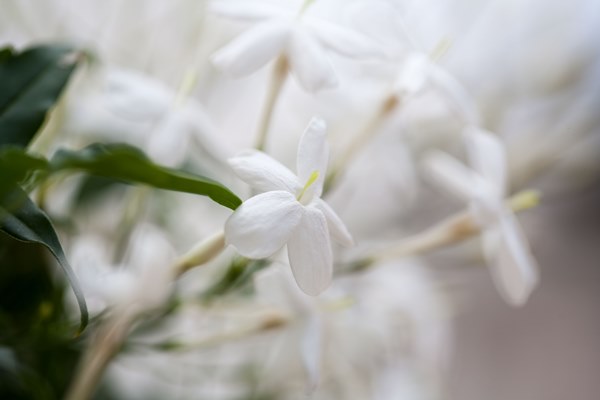 "A Damascene moon travels through my blood
Nightingales . . . and grain . . . and domes
From Damascus, jasmine begins its whiteness
And fragrances perfume themselves with her scent
From Damascus, water begins . . . for wherever
You lean your head, a stream flows
And poetry is a sparrow spreading its wings
Over Sham . . . and a poet is a voyager,"
writes Qabbani in one of his most renowned poems, A Damascene Moon. He was born in Damascus in 1923 in the old neighborhood of Mi'thnah Al-Shahm, which you encounter time and again in his poems. Qabbani's poems are romantic and political, erotic and lyrical, breaking conventions and offering a glimpse into his lively, rich imagination. Since 1966 and until his death in 1998, Qabbani has been living abroad, but in his exile he has produced some of his finest poems. The longing for the City of Jasmine gives his words a strong charge, and as I read them, I think of all the places that I miss, all of the colors, scents and voices that make up my memories. As someone who created a fantasy jasmine forest, to replace the real one far away, I feel a poignant kinship with the Syrian poet.
I immerse myself in the Buzurriya Souq
Set a sail in a cloud of spices
Clouds of cloves
And cinnamon . . .
And camomile . . .
I perform ablutions in rose water once.
And in the water of passion many times . . .
And I forget-while in the Souq al-Attarine-
All the concoctions of Nina Ricci . . .
And Coco Chanel . . .
What are you doing to me Damascus?
How have you changed my culture? My aesthetic taste?
For I have been made to forget the ringing of cups of licorice
The piano concerto of Rachmaninoff . . .
How do the gardens of Sham transform me?
For I have become the first conductor in the world
That leads an orchestra from a willow tree!!
I have come to you . . .
From the history of the Damascene rose
That condenses the history of perfume . . .
From the memory of al-Mutanabbi
That condenses the history of poetry . . .
I have come to you . . .
From the blossoms of bitter orange . . .
And the dahlia . . .
And the narcissus . . .
And the "nice boy" . . .
That first taught me drawing . . .
I have come to you . . .
From the laughter of Shami women
That first taught me music . . .
And the beginning of adolescence
From the spouts of our alley
That first taught me crying
And from my mother's prayer rug
That first taught me
The path to God . . .
You can read the full version of Damascus, What are You Doing to Me? in the translation by Shareah Taleghani and immerse yourself in the vignettes where the minarets call "Come to the jasmine" and where the colorful towels of hammams dance in the wind. Some would say that it's an image of the city that doesn't resemble today's Damascus. But do the news stories presenting it as a bleak and dehumanized place get it right? If the city still remembers its jasmine, then its spirit survives.
Qabbani published more than 40 collections of poetry, and two of my favorites, Republic of Love (2003, public library) and Arabian Love Poems (1999, public library), are available in English.