Have you ever tasted a slice of cucumber dipped in honey? The combination reveals that at its heart, cucumber is  a fruit.
While the pairing of cucumber and honey may sound like an invention of young Danish chefs, it's a classical Ukrainian duo and the ultimate taste of summer. By the time my great-grandmother was ready to harvest the first batch of cucumbers from the vines, the mild acacia honey would become available at the market, and the two went perfectly together, an earthy green and floral fragrance and the taste of sea and violet leaves in one mouthful. I couldn't even unravel which nuance was of the cucumber and which of the honey.
The memory of this childhood snack accosted me one rainy day in Brussels and I wondered how the greenhouse cucumbers might stand up to the test. And fared well they did. Honey brings out their natural sweetness and offsets the green notes. Something as ordinary as a cucumber becomes much more interesting.
If you have access to something other than the giant green cucurbits packed in plastic, you're in for a treat. The best way to try cucumbers with honey is the simplest. You only need a few cucumbers and a jar of honey. You can figure out what to do next. The small cucumbers with seeds barely formed are the sweetest. I sometimes also grab a salt cellar and sprinkle a few grains on top for an extra briny jolt and crunch.
Should you want a fancier variation, try slicing cucumbers into batons and covering them with a dressing of honey, mild extra-virgin olive oil, ground pepper and salt. A few drops of orange blossom water in the dressing will give your cucumber salad a musky twist. Flower water with cucumbers is also part of culinary classical traditions, albeit one from even further East–Persia.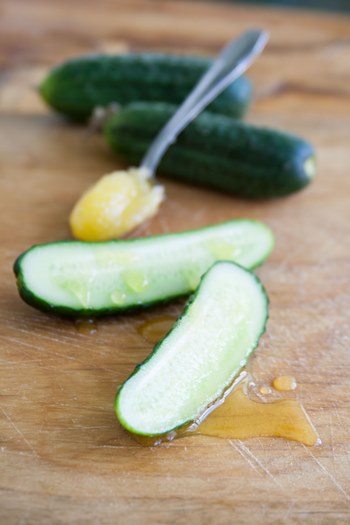 Photography by Bois de Jasmin