Chanel Coco Mademoiselle (2001), currently the USA's top selling women's fragrance, has little to do with the 1984 Coco fragrance it allegedly flanks. One isn't related to the other, except from a marketing standpoint that has Coco Mademoiselle positioned to sell to young women and Coco aimed at an older crowd. Coco Mademoiselle is a patchouli scent that belongs to the species of Thierry Mugler Angel, the groundbreaking 1992 fruit and patchouli techno-gourmand that was responsible for many spin-offs, some of them flops and some of them, like Coco Mademoiselle, bestsellers.
The notes of Coco Mademoiselle–rose, jasmine, patchouli, lychee, orange, grapefruit, vetiver, vanilla, and musk–say absolutely nothing about the scent. It's not possible to imagine what it smells like from that roster. So many of these notes are rendered completely abstract that what really jumps out is a greenish, herbal patchouli over which have been melted vanilla and the type of fruit syrups used to flavor water.
Until now I have been largely unable to wear Coco Mademoiselle because its sharp cotton candy-patchouli does not settle on my skin. But I recently noticed a bottle of Coco Mademoiselle dry oil spray on a Chanel counter. I adore dry oils, so I sprayed with abandon. "It's sold out," said the sales assistant. Of course! It was marvelous stuff, and was an instant replacement for the discontinued Touche Scintillante Elixir, which had previously been the only form of Coco Mademoiselle I could wear. The dry oil transformed Coco Mademoiselle into a soft veil of scent that within five minutes had gotten a huge rave from a fellow shopper. Her eyes widened as she asked me what this scent was and where she could buy it, now.
"It's sold out," I said.
Coco Mademoiselle features the same type of vaguely green and sticky patchouli used in Chance. It is this somewhat strident and sharp chord that has prevented me from truly appreciating the perfume. In the dry oil (properly "Velvet Body Oil Spray") the note is tamped down from its greenness and rounded out with white musk and vanilla, with the smallest amount of vetiver roughing it up as a basenote and keeping the vanilla/musk from being too plastic and smooth. The gigantic abstract of the original, which suffused rose and jasmine with bergamot and orange, is given a much lower wattage in the oil version.
In the oil, the heightened artificiality of Coco Mademoisells isn't as obvious. Now Coco Mademoiselle is no longer on an amped-up patchouli rampage, taking victims right and left in the manner of Angel. What remains is a soft-focus of the original, with all the notes appearing at the same time, glittering mildly off the skin in a way that can only be described as eminently pleasurable. I dislike describing fragrances as "sexy" (too highly subjective), but this one is, in a sneaky way that entices both sexes. I am now armed with enough feedback to know.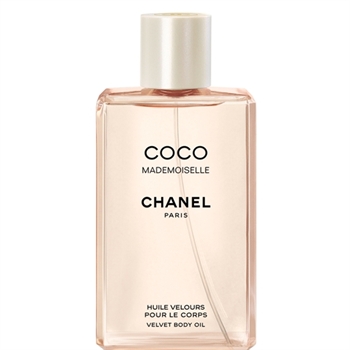 Coco Mademoiselle Velvet Body Oil Spray and perfume are available at chanel.com and at Chanel counters.