In my last article of Tea Primer, I discussed the three essential parts to brewing any cup of tea: water, tea, and teaware. Now you have all three ready, but where to start? It's really very simple, and only requires a bit of practice to master. Just as your preference for particular fragrance notes and styles would be evident after a look at your fragrance wardrobe, each person's way of preparing tea is unique, shaped by their preferences and proclivities. Luckily, once you are familiar with the techniques detailed here, you will have a basic understanding of how to prepare any tea using any method of preparation that you like, as the basic underlying principles are always the same. To make it easier to follow, I've separated the elements of brewing a cup of tea into four easy steps.  Let's get started!
1. Know your tea
Before you start heating up your water, it is important to decide what kind of tea you are going to drink, as this will determine how hot the water needs to be. In my experience, this step can often be the hardest of them all, because, as with perfume, choosing what tea you are in the mood for is sometimes difficult. Below is a chart of time and temperature information for brewing various types of tea. Teas differ from company to company, however, so it is also a good idea to refer to the company website and packaging for exact instructions for the tea you wish to prepare. And, as always, feel free to experiment! The information on this chart is only a guideline for brewing tea. Your instinctive sense of scent and taste is always the best guide.
| | | |
| --- | --- | --- |
| Type of Tea | Water Temperature | Brewing Time |
| White Tea | 70-75°C/160-170°F | 1-3 min |
| Green Tea | 80-85°C/175-185°F | 1-3 min |
| Japanese & Delicate Green Teas | 75°C/170°F | 1-3 min |
| Oolong Tea | 90-95°C/195-205°F | 2-5 min |
| Black Tea | 100°C/212°F | 2-5 min |
| Rooibos & Herbal Teas | 100°C/212°F | 5 min |

2. Heat your water
Next, you will need to heat your water, keeping in mind the temperature needed for the tea you are making. In addition to heating enough water to make the serving size you are trying to make, also make sure to add a small amount of extra water (less than ¼ cup), which will be used to warm your brewing vessel. Whether you are heating your water in a kettle, in the microwave, or even just on the stove in a saucepan, the biggest issue that arises in heating water is usually in ensuring that the water reaches the correct temperature, especially for teas like white, green, and oolong, that require water that is below boiling and at a particular temperature. I heat my water in a kettle, so it would be very cumbersome to open up the top and stick a thermometer in to check the temperature of the water periodically.
Instead, I've found a more convenient and precise method. No matter what kind of tea I'm making, I boil the water completely first. If I'm making rooibos or black tea, I use the water right after it's been boiled. If I'm making another type of tea, I pour my water into a large measuring cup or small heatproof pitcher and drop in my thermometer. Then, I very slowly pour in a stream of cold water, stirring constantly, and watch my thermometer until the temperature drops to where I need it for my tea. It is often easiest to do this in increments, checking the thermometer frequently, so as not to accidentally make the water too cool with the additions.
Alternatively, you could also just wait for the water to naturally cool down to the temperature you need it at. This is the most inconvenient step in brewing tea, but is very necessary, as water that is too hot for the tea you are making will "stew" the leaf making the tea taste bitter and flat, while water that is too cool will not extract the full amount of flavor from the leaves.
3. Warm your teaware and brew
After your water has been heated properly, pour a few tablespoons of hot water into your tea-brewing vessel and swirl around inside until the outside of the vessel feels warm. This serves the purpose of warming the vessel. If you do not do this, the temperature of the water you use to brew your tea in will drop too quickly and negate the whole purpose of making sure your water is at the correct temperature in the first place. Spill out that water into the sink and measure out your tea into the tea vessel (ideally, 3 g, usually about a rounded teaspoonful).
Next, pour in as much hot water as you need, and cover the vessel. Then set a timer or look at your watch until the tea has brewed as long as you would like. The first time you make a given tea, it is a good idea to figure out what the ideal brewing time for it is by tasting the tea at 30-second intervals as it brews, stopping once it seems to taste best.
Sometimes, on that first cup, letting the tea brew for too long will help you to determine when the tea is at its best, and when it is over-brewed.  For some teas, like Darjeeling black teas, brewing for just thirty seconds too long can mean the difference between a perfectly brewed cup and an overly bitter tasting one. Other teas, like white teas, tend to be less sensitive to brewing times. Of course, once you have determined the perfect brewing time for a new tea, it is a good idea to write it down somewhere for future reference. Experience is the best guide here.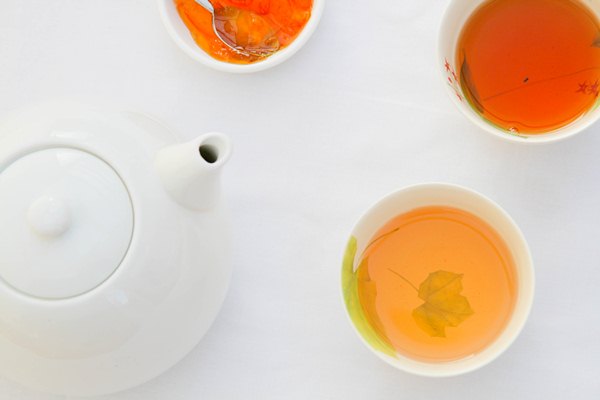 4. Decant your tea and enjoy
Now, it's time to decant the tea from the brewing vessel into your cup of choice and enjoy! Savor the aromas and flavors you find in your tea. Like perfumes, which often call to mind specific emotions, images, and experiences, I find that teas have the same sort of transporting effect. Brewing the perfect cup of tea requires a bit of know how, but the extra effort is worth it. You will be rewarded with delicious tea, which is enticement enough to take some time for tea each and every day.
Photography by Bois de Jasmin