Whenever I need some basic skincare or makeup, I usually go to the local perfumeries like Planet Parfum or Ici Paris XL. They carry the usual prestige brand suspects and are located on pretty much every corner in Brussels. As I get ready to leave with my purchases, a sales lady usually asks if I would like a spritz of perfume. I usually decline, but on one occasion I gamely decided to try her top choice. That's how I met the new Dolce & Gabbana Pour Femme and spent the rest of my day trying to scrub it off.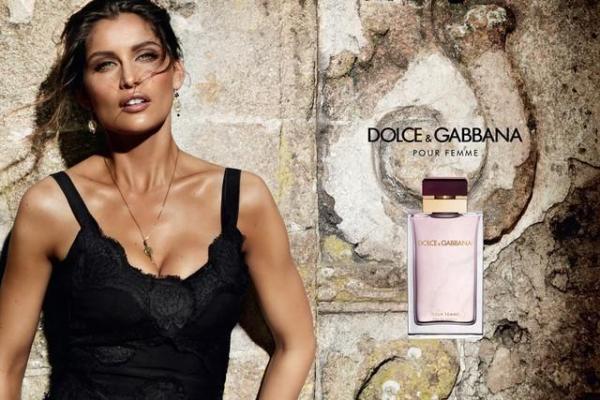 First, a bit of a back story. Dolce & Gabbana Pour Femme has existed since 1992 as an aldehydic floral. Created by perfumers Jean-Pierre Mary and Martine Pallix (she also worked on Comme des Garcons Odeur 53), Pour Femme was the kind of high glamour fragrance with a whiff of the 1980s that you could still find in the early 1990s, and it made quite a statement.
Dramatic though it was, Pour Femme didn't have much to appeal to the generation of perfume wearers who are used to sweeter, less assertive fragrances. Dolce & Gabbana rectified it by presenting a new version of Pour Femme–a fruity gourmand. Are you surprised?
While I never cared much for the original Pour Femme, it was at least memorable. The new version smells like an amalgam of everything at the mall–pink fruit cocktail, high-pitched florals, vanilla bubblegum and caramel. Dolce  & Gabbana fashions are all about curves and sensuality, but this perfume is banal.  It manages to smell creamy and sharp at once, and its sweetness gives me a tooth ache. There is a pretty floral motif peaking through the dense layers of cotton candy and sweet berries, but it stands no chance against the sharp woods and vanilla.
Ever since I encountered Pour Femme at the Planet Parfum, I've come across it many more times. It was one of the biggest launches last year, and it's often featured as a benchmark for new fragrance ideas. This alone depresses me. I very much like Light Blue, but it's hard for me to muster up any enthusiasm for Pour Femme, despite numerous attempts.
It's loud and sweet, with an overwhelming presence that  is hard to moderate even with light application. I can think of other fruity gourmand perfumes that aim for the same bubbly and coquettish presence and do a much better job–Badgley Mischka, Marc Jacobs Daisy, Guerlain Shalimar Parfum Initial, or Gucci Guilty.
A lesson learned–these days I politely decline the sales associates' offers to be perfumed.
Dolce & Gabbana Pour Femme (1992) includes notes of petitgrain, tangerine, freesia, neroli, ivy leaves, basil, aldehydes, carnarion, jasmine, lily of the valley, marigold, orange blossom rose, coriander, sandalwood, musk, tonka bean, vanilla. Dolce & Gabbana Pour Femme (2012) features green mandarin, neroli, raspberry, jasmine, orange blossom, marshmallow, sandalwood, heliotrope, and vanilla. Available from the Dolce & Gabbana counters (the 1992 version is still sold on Ebay at reasonable prices).