The latest Jo Malone fragrance—Blackberry & Bay—is categorized by the maker as "fruity," but on my skin it's far more interesting than that.  Blackberry & Bay fully succeeds in conjuring a fantasy English countryside and more precisely a rambling walk down a country lane, with healthy flush to the cheeks and solid walking shoes for skirting muddy patches. Somewhere along this dream excursion there is naturally a hedgerow from which appear fat black berries, their juice tart and edging on sour, their leaves green and sharp.  Just when I found a hole in my fragrance wardrobe, just when I lamented finding a fragrance that would uncannily recreate a specific holiday sensation, up pops this beauty from Jo Malone.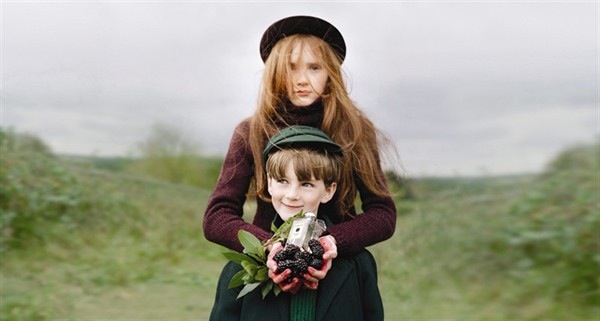 I will confess that I don't pay all that much attention to the Jo Malone line.  While I love the Red Roses bath oil, I often find the colognes to have standout notes that don't do much for me, whether that be the smell of stables in Pomegranate Noir or the strong citronella (mosquito candle) in the aforementioned Red Roses.  I wondered if Blackberry & Bay would not be a sweet and musky thing but hearty and possibly "masculine" thanks to a dose of bay leaves.
From such deductions are sniffing expeditions made.  I had to travel all the way to Orlando to try it, and I'm pointing that out so that you get a picture of the fragrant void that is Northern Florida.  One hundred and twenty miles later, I was happily but politely spritzing myself with Blackberry & Bay and begging for samples.  Florida has made me reject tiare and frangipani or anything tropical with coconut.  Blackberry & Bay was the exact opposite.
The blackberry note smells pungent and citrus-like, as if not quite ripe.  This pucker-y opening, which would be ideal on one of those stagnant summer days, contains the same element of surprise as the blackberry note in L'Artisan Mûre et Musc.  It's closer to lemon than it is to a plump, sweet berry. Bay leaf gives a zesty freshness that is invigorating  and bright.  It soon nestles itself into a cradle of smooth cedar.  And that is where it stays, as a woody aromatic that will likely please people who like a forefront herbal note like basil or bay rum.
The lasting power of the Malone colognes is always impressive.  Cologne gives the idea that it should be used with abandon, but a couple of spritzes lasts throughout the day on me. I don't find Blackberry & Bay to be especially complex, with only three notes in the main theme, but it's so very satisfying.
Jo Malone Blackberry & Bay includes notes of grapefruit, grapefruit blossom, bay leaves, blackberries, jasmine, lily of the valley, cedarwood, sandalwood, vetiver, and musk. Available at Jo Malone boutiques and department store counters.