Ivoire de Balmain, like many classical fragrances, entered my wardrobe via a thrift shop find. I love browsing antique stores for treasures like old perfume bottles, fake pearl necklaces and copper cake molds, and while more often than not, I leave with nothing but dust on my fingers and clothes, occasionally I find a gem. Several years ago it was a small bottle of Ivoire parfum. It was still sealed, and the fragrance was exquisitely beautiful. Even when later I bought a bottle of new Eau de Toilette, I still was smitten with Ivoire's fragrance of crushed green leaves and skin washed with jasmine soap.
Ivoire was  created in 1979 by a great team of perfumers, Francis Camail and Michel Hy. For reference, Camail created Estée Lauder Aliage and was one of the perfumers responsible for Giorgio Beverly Hills, while Michel Hy gave us legends like Yves Saint Laurent Rive Gauche and Paco Rabanne Calandre. Balmain was one of the top French fashion houses, and Pierre Balmain was still at the helm. "A garment made by Pierre Balmain was the very quintessence of haute couture," famously said the Vogue editor Diana Vreeland.
Although Ivoire was not avant-garde–it was really too close to Chanel No 19 to be entirely new, it was impeccably crafted. Its scent was a perfect fit with its name. The green leaves rustle gently in the top notes, but the core of the perfume was a glowing white accord of jasmine and sandalwood liberally doused in aldehydes. It smelled of creamy white soap bars, warm skin and white petals.
The finish of Ivoire was mossy and earthy, but still soft. Unlike the much more majestic and aloof No 19, Ivoire had a cozy, comforting character. Even in the brighter, sharper Eau de Toilette concentration, you'll find the tender layer. If you have a taste for aldehydes, soapy scents and glamorous perfumes, then Ivoire is for you.
Unfortunately, Balmain did not maintain consistent quality over the years, and while you can still find vintage Ivoire easily on Ebay and discounters (look for the white capped bottle in the zebra striped box), some lots are very good and others are dismal. So, buyer beware!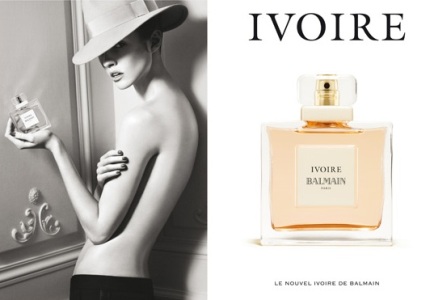 I didn't think much of Ivoire until a few months ago when I spotted the new version at a perfume store. In 2012, Balmain engaged two excellent perfumers, Jacques Flori and Michel Almairac, to refurbish Ivoire, and we finally have it back. If you've worn Ivoire in the past, you will notice that today it had a major facelift. Gone are the sharp aldehydes and peppery green stems. The musky darkness and patchouli have been toned down as well. But there is now a delicious green note, a flurry of orange blossom petals and a polished drydown of cedarwood and moss.
The mossy, wet note wraps the sheer floral motifs of jasmine, rose and ylang-ylang, and if you compare new Ivoire with its predecessor, you will realize with a surprise that today it feels like more of a chypre (mossy-woody blend). There is still a hint of warm skin well scrubbed with soap, but the whole character of Ivoire is brighter and more lighthearted.
I like the new version very much for the effervescence of its leafy notes and the elegance of its soft floral accents. Yes, it's gotten thinner (just like the model in its ad campaign), but you can still glimpse the curves of the original. If you have never worn Ivoire in the past, even better. Then you can appreciate this elegant, refined perfume that begs for a white string of pearls and a little black dress on its own terms.
Ivoire de Balmain (1979) includes notes of bergamot, mandarin, jasmine, neroli, galbanum, violet leaves, carnation, iris, jonquil, marigold, rose, ylang-ylang, nutmeg, raspberry, patchouli, sandalwood, vetiver, oakmoss, tonka bean, and vanilla.  Ivoire de Balmain (2012) includes notes of mandarin, orange blossom, violet leaves, jasmine, rose, ylang-ylang, galbanum, pepper, cedarwood, patchouli, vetiver, and vanilla. Available at major retailers.
Samples used for review: extrait de parfum dating to 1979, Eau de Toilette 1980s, Eau de Toilette late 1990s-early 2000s, a sample from Galeries Lafayette of modern Ivoire