I'm the last person to give advice about organization, since until recently my perfume collection was arranged in a manner defined as chaos in most dictionaries. I took searching for samples and decants as par for the course. But even dinosaurs like myself can evolve. What inspired me to change was a discussion brought about by Lauren's article about her perfume collection. In her article, Lauren describes following a decluttering system based on the best-selling book by Marie Kondo and selecting out items that bring her joy. Her fragrance wardrobe, having been exposed to heat, is unfortunately beyond cure, but the sight of it nonetheless touches her so deeply that she is determined to keep it. It's not just the perfumes in the bottles, but memories and feelings that matter.
As I read the article, I realized that the last time I felt any thrill out of my collection was when I was a college student and had a few bottles arranged on top of my bookshelf. The little arrangement–Prescriptives Calyx in its frosted green bottle, a small black cube of Robert Piguet Fracas, a precious bell jar of Serge Lutens Bois de Violette ordered via a friend in London and delivered to New Haven by another friend, and a ragtag assortment of decants from Makeupalley swapping–next to my textbooks on economics and political philosophy spoke to me of new discoveries, wanderlust and new friendships. Since then, my collection has grown by leaps and bounds, and while I pared down a lot during my move to Belgium, I still had enough to require a storage solution. I enjoyed the individual bottles, but whenever I surveyed the haphazard arrangement, I felt overwhelmed rather than overjoyed.
Then, not long ago I reached for a bottle of Frédéric Malle L'Eau d'Hiver, which was neglected at the back of my closet, and I noticed a suspicious musty, nutty odor. It had turned rancid. The bottle was kept in its box, in a cool, dark spot, and yet it smelled nothing like the soft iris and almond caramel of my original purchase. I barely got a chance to wear it. The same thing happened to Annick Goutal Quel Amour! and Hermès Jardin sur le Nil. Clearly, my hoarding system was flawed.
At Lauren's suggestion, I read Kondo's book, and I found it refreshing and quirky, free from the finger wagging tendencies of other organizational guides. Anyone who thinks of the well-being of their socks and thanks shoes for their hard work is alright with me, but above all, Kondo's advice is sensible and easy to follow. Since there are numerous articles on Kondo's method online, I won't describe it here; mostly, I used the book for motivation, rather than followed the instructions to the letter. Suffice it to say, it gave me a basic idea and a new way of contemplating my belongings. I still don't talk to my boots, but I do fold socks into neat bundles.
To start with, I took all of my bottles and decants and arranged them on the floor in my bedroom. Without dwelling on the cost or rarity, I set aside those fragrances which gave me a rush of pleasure. No "maybe I will like it again" or "I will wear this for a certain mood" perfumes. Only scents that bring a smile to my face.  This part of the exercise was the most enjoyable, since it revealed instantly what I needed within reach. Yes to Aquolina Pink Sugar. No to Tom Ford Lys Fume. Yes to Jacomo Silences. No to Jean Patou Joy. I finally admitted that as much as I admire Chanel No 5, I won't miss it should I bid goodbye to my bottle. On the other hand, I can't imagine parting with Guerlain Après L'Ondée, a perfume that gives me butterflies in my stomach.
Another group was of reference perfumes, fragrances I don't wear but need for work–evaluations, creating benchmarks, writing articles and doing research. The third group was for donations and giveaways. For instance, I didn't hesitate to place vintage Hermès Rouge in the "donate" group. I also realized that I held onto Serge Lutens Chypre Rouge for all the wrong reasons (the feeling of guilt for having splurged on it). It's beautiful, but it doesn't suit me. So it's now delighting a friend who dreamed of buying a full bottle. On the other hand, I've kept my near empty and musty smelling bottle of Fracas, because seeing it reminded me of my student days and of hunting down perfume bargains in the thrift shops after classes.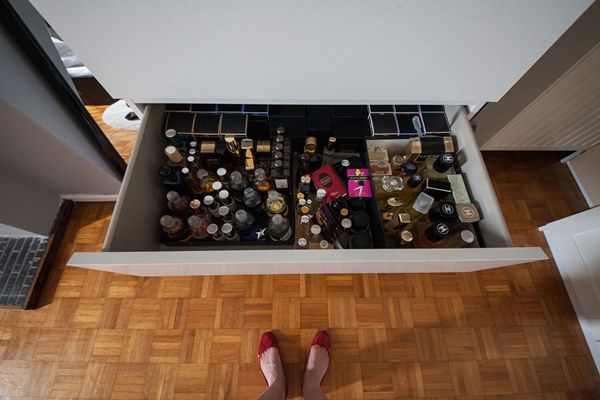 Kondo's book doesn't cover the needs of a perfume addict, but having folded the socks, I discovered something rare in our household–a whole empty drawer. This was when I had my eureka moment of the day–a drawer of my dresser is a perfect place to keep a fragrance wardrobe.  The perfumes are within easy reach and out of direct light. The bottles are easily surveyed from the top–I placed them in one of the lower compartments. I divided up my perfumes into three groups, separated into several shoe boxes, and stuffed the original packaging at the back of the drawer to prevent the shoe boxes from moving. How easy is that!
Meanwhile, it has been a few months, and my perfume drawer has remained fairly neat and clutter free. I no longer search for anything, open boxes or fiddle with dozens of decants before I find the one I need. As I get dressed for the day, I can decide which fragrance to wear by running fingers over the tops, a pleasant sensory experience in itself. I store many of my perfumes in decants, and it helps to have them accessible and clearly labeled.  I leave a few favorites-of-the-moment on top of my dresser and keep untested samples in a pretty cup, an improvement on storing them in a wrinkled ziplock bag.
I have a long way to go before I can call myself an organized person, and my method can certainly be improved. I'll let you know what happens when I go through my enormous box of perfume samples. Nonetheless, I hope that my experience might help others in search of a better storage system. The best thing I learned in the process is that surrounding oneself with meaningful objects has an uplifting effect. I still like my clutter–my twenty varieties of black pepper, too many rose perfumes, mismatched tea cups and shelves of books I probably won't re-read, but in a more manageable way.
If you have any storage ideas or stories, please share.  If you would like to read about another way to organize a perfume wardrobe, please see Patricia's method.
Photography by Bois de Jasmin