Corralling those pesky perfumes, or my attempts at organization is how Patricia described to me her idea for this article. As you will see, she was being modest, and her organization method is impressive. 
First, let's get this out of the way. I have a lot of perfume. But, if you are reading this, chances are you have a fair amount yourself and struggle, as I do, with containing it all. The first stages of perfume collection don't pose a problem. A few bottles here, a few samples there are easy to keep track of. However, once the collection swells (I swear, those dab samples in their neat little plastic bags multiply like rabbits!), some form of organization is necessary if you want to find anything in under an hour. The following is my method, which has evolved over the years by trial and error and is not meant in any way to be a guide or "how-to."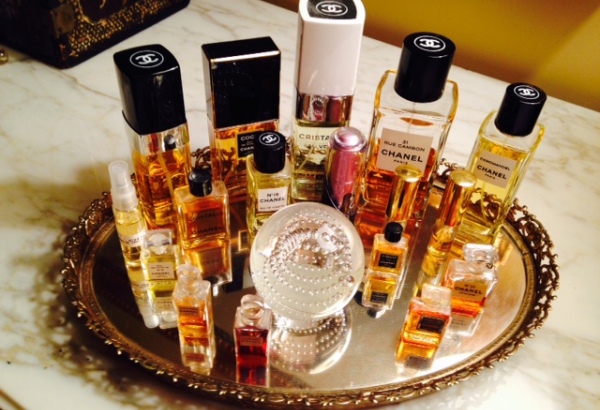 Housing. My collection, large as it is, lives in three different locations: a tall, narrow cabinet in the bathroom, a shelf below my bedside table, and my dresser tabletop. (Newly obtained samples, of course, can be found floating here and there throughout the house.) None of these locations is ideal for perfume, which likes dark, cool places, but I don't want to keep my perfume locked away in a special refrigerator, and for the most part I either never had or didn't keep the original boxes. I make some effort at limiting direct light, but that's about it.
My cabinet has six shelves: four above with glass doors are used for perfume, and the two below with a solid door are used for samples and decanting supplies. I also keep the "discovery set" type samples offered by the perfume companies in the two lower shelves.
I recently purchased two nice adjustable teak spice racks with three tiers for the two upper shelves, as it was impossible to see the perfumes in the back of the cabinet. Vintage perfumes and perfumes in pretty bottles are kept on these shelves. The third and fourth shelves are lower, and items on them are easier to see. I have included some beloved personal items along with the perfume. The third shelf holds two enameled Battersea boxes of a rabbit and a teddy bear given to me many years ago by my brother, and a carnelian carved dachshund, a gift from my mother to remind me of my childhood pet. The fourth shelf has my mother's pillbox, enameled with violets, an antique perfume bottle in the shape of a lady from my mother-in-law, and a crystal horse, an anniversary gift from my husband.
Organizing. A label maker is your best friend. I've had mine, a P-Touch, for going on ten years without a problem. Of course, if you have good handwriting (I don't), a pen and stickers will work just fine. Small Baggies of varying sizes are essential for keeping the little dab samples under control, and clear plastic boxes are also very useful.
The bottom two shelves of my cabinet contain the samples and small decants (up to 5 ml.). The dab samples are organized by house in small plastic Baggies and put into one of four alphabetically divided plastic boxes. The small decants stand upright in four separate alphabetically divided boxes and are more loosely organized by house. The plastic boxes I use have been collected over many years from my husband's office (they originally contained small mirrors) at no cost to me. Various carded samples, useful for swapping, are also stacked in these boxes. The Travalos, which are great for traveling or to throw into a purse, are kept in a plastic container that formerly held cotton swabs. The bottom shelf holds some backup perfumes, manufacturers' sample sets, and a cigar box with decanting supplies.
Spreadsheets. Spreadsheets or handwritten lists can be useful tools for keeping track of your perfumes. I created an Excel sheet and used it for a few years until keeping it updated became too much of a burden. I found that I swapped, gave away, or used up samples and decants too quickly to keep the list up-to-date.
Satellite Areas. The shelf under my bedside table holds open plastic shoeboxes with my most often-worn perfumes, grouped loosely by house. Large decants (8-10 ml), are held in two of the small plastic boxes, within easy reach, as I get dressed for work in the morning. These are not very organized, but I enjoy rummaging through them to find something that feels just right for that day.
Since I own more Chanel perfume than any other house, I have arranged these fragrances on a vintage mirrored tray centered with a pretty paperweight and placed on my dresser top. (A nod here to Birgit of Olfactoria's Travels for this idea.) There is another, smaller tray with Hermès on the other side of the dresser. The top of the dresser is also always scattered with samples of new things to try, and I often use the lids of the plastic boxes to keep them from migrating.
Now, if only I could figure out where to put all the shampoo, face cream, and soap currently residing on the bathroom floor!
Please share how you organize your perfume collection.
Photos by Patricia