Herbs can add a bracing touch to fragrance and food. Elisa explores all facets of rosemary.
I never much liked the dried version of rosemary – neither the flat, somewhat dusty flavor nor the stabby texture, like dead pine needles, appealed. The first time I tried fresh rosemary, I was blown away. It felt like another species entirely – firm but pliant in texture (easily chopped with a sharp knife) and with a full, complex, room-filling scent when you cook with it.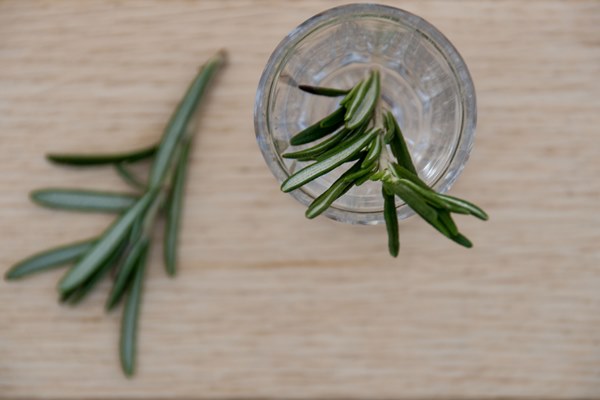 Just by looking at it you could guess that rosemary smells piney – woodsy and green. It contains camphor, that bracing, pungently minty note common to evergreen trees, mothballs, and Tiger balm, as well as caffeic acid, a phenolic substance also found in eucalyptus bark. But my favorite thing about fresh rosemary, which I rarely see mentioned, is a distinctly buttery note – a savory milky aspect that makes anything you add it to smell and taste extra rich.
The dried herb smells overly compressed in comparison – it doesn't produce the same striking contrast between aromatic freshness and the illusion of fattiness. As with basil and cilantro, a ton of complexity is lost in the drying process, but fresh rosemary stands up much better to cooking than most soft herbs.
Rosemary in Perfume
In perfume, rosemary is used, similar to lavender, to add an herbal, aromatic quality, especially to the top notes of colognes and fougères. But unlike lavender, whose sharp, gray-blue presence is always unmistakable, rosemary notes tend to be shy, to blend into the background.
Rosemary is great with lemon – you can find it in Dior Eau Sauvage and Clarins Eau Dynamisante, two of my favorite colognes. In both, the lavender is minimal, so the rosemary shines through, but it's especially noticeable in Eau Dynamisante, where it leans toward the prickliness of the dried herb, bolstered by a what smells like a bit of the chypre-like leather material found in Estée Lauder Azurée.
Rosemary also appears in a few of Guerlain's classics and newer orientals. Jicky smells of lavender, lemon, rosemary, and vanilla – except perhaps for the civet, it would make an awesome shortbread. A dash of herbes de Provence (a combination of rosemary, thyme and other herbs, such as savory, basil, marjoram and tarragon) adds foody complexity to the powdery violet-iris of Après l'Ondée.
The more recent Tonka Impériale is all about the cozy, nutty tobacco smell of tonka bean, with a touch of that green and yet buttery savoriness of fresh rosemary – it reminds me of flaky pastry dough, like a rosemary almond croissant. I get a similar impression from Attrape-Coeur, which is less sweet and more difficult to pin down; I smell iris and violets set against a quite salty amber. It has the medicinal edge common to many Guerlain orientals, a hint of the old Band-Aid smell (remember when Band-Aids had a scent?), creating a very Guerlain, paradoxical combination of repellant and delicious. A piney, woody note shines through after it warms to your skin.
Rosemary in Food
Rosemary is gorgeous with roasted pork and apples, on potatoes, in a red wine reduction for short ribs, or – more unexpectedly – in cocktails, paired with gin or vodka, citrus (grapefruit is especially nice) and a little simple syrup. I also love it in this simple recipe for cocktail pecans, which I adapted from Nigella Lawson's recipe for mixed bar nuts, itself adapted from the Union Square Café. The fresh rosemary really complements the buttery pecans, and the smell is half the experience – please don't substitute with dried herbs! These are great with drinks while warm; try tossing leftovers in a salad.
Rosemary Pecans
8 ounces (225g, 2 1/4 cups) of raw unsalted pecans
1 tablespoon finely chopped fresh rosemary (from 4-5 sprigs)
1 tablespoon butter
1 tablespoon brown sugar
¼ – ½ teaspoon of cayenne pepper (adjust to taste)
Toast the pecans on a sheet pan in the oven at 350 for about 9-10 minutes, until fragrant (watch closely so they don't burn). Meanwhile, melt the butter and combine with the brown sugar and cayenne. When the pecans are toasted, toss them in a bowl with the butter mixture and the rosemary. Season generously with a couple of pinches of sea salt or kosher salt and a little fresh cracked black pepper if desired.

Photography by Bois de Jasmin (first image) and Elisa Gabbert (second image)