Created in 1889, Guerlain Jicky is at once a timeless classic and a remarkably modern fragrance.  One story is that Aimé Guerlain created it in honour of his English girlfriend; however, another version is that it was dedicated to his nephew Jacques Guerlain, whose nickname was Jicky. Jicky is considered to be the first fragrance to combine natural and synthetic essences.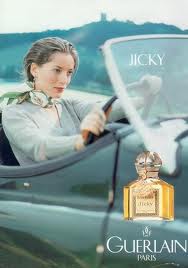 Although it is undeniably an important starting point of modern perfumery, Fougère Royale by Houbigant (1882) was the first perfume to use a man made material: coumarin, an almond redolent ingredient derived from tonka beans. Jicky went out step further by combining coumarin and vanillin, another synthetic essence.
The top notes of lavender and a blend of citrus notes (bergamot, lemon, mandarin) provide a sparkling contrast to the herbal notes that start weaving in and out, before slightly metallic iris and earthy rose tinged with vetiver become apparent. The cold top and middle are an elegant counterpoint to the warm base composed of lush vanilla, balmy amber and musk. A touch of leather and incense complete the composition, lending it an understated sensual aspect. Those familiar with Shalimar will recognize a similar fire and ice effect in Jicky.
The bottle deserved a special mention. Shaped like a 19th century medicine jar and topped with a stopper resembling a champagne cork, it is one of my favorite Guerlain flacons.
On Reformulation (added 12/17/10):
The main disappointment among Guerlain classics in their post-reformulation state was Jicky. The character of Jicky is driven by an effervescent, aromatic note—lavender, bergamot, thyme, rosemary—set against musk, civet and vanilla. The animalic-musky accord of Jicky used to be built around the nitromusks and natural civet, which were subsequently replaced. Now, the drydown is even cleaner. The sillage is minimal and the tenacity is quite poor. Compared to all other Guerlain fragrances, the blotter dipped in new Jicky hardly bore any traces on it 48h later, whereas others were still quite recognizable. The vanilla and white musk give it a strange resemblance to fabric softener sheets after they have been through the drying cycle. Jicky Eau de Toilette follows the same progression as theparfum–aromatic-herbal top, dominated by lavender and thyme, thin floral  accord and then a pale base of vanilla, sandalwood and musk. In the parfum, the screechy woody note is jarring, while the flatness of vanillin does not help matters either. I prefer the EDT, if I have to choose, but to be honest, I doubt I can bring myself to wear either.