As I described in my post on sandalwood fragrances the other day, I've always had a romantic and exotic association with sandalwood. Its perfume of roses and cream–so rich, so haunting, so long lasting–seems like a whiff from some other world. Scheherazade's palace in the Arabian Night Tales must smell of sandalwood. If so, who would be better placed to create a fairytale sandalwood perfume than the man who made a career out of worshiping beauty–Serge Lutens.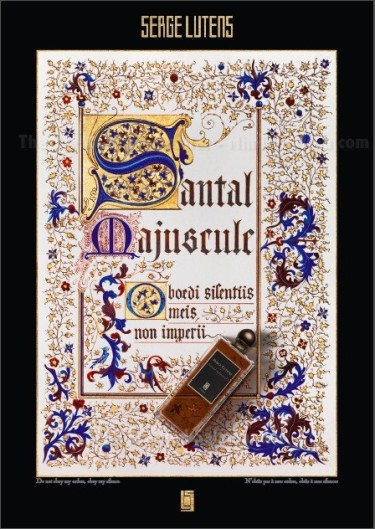 Like a modern day Scheherazade, Lutens weaves one tale after another, with the leitmotif of a fantasy running through the collection. Perhaps it is for this reason that his large range doesn't feel redundant. Or perhaps I'm too much of a fan of his tales to be tired of them. Whatever the case may be, Santal Majuscule is the latest fragrance to cast upon me the Lutensian spell.
"Sandalwood written in capital letters, full scale and life sized" is how the website describes this fragrance created in collaboration between perfumer Christopher Sheldrake and Lutens. This led me to expect a brooding, serious fragrance with a mile long sillage. Santal Majuscule is none of those things. It's a romantic and tender scent of warm sandalwood brushed with honey and scattered with rose petals. Never mind Scheherazade's palace, her skin must have smelled like this–of milk, roses and sweet spices.
At first, Santal Majuscule smells very much like a Middle Eastern rose attar, a traditional distillation of rose and sandalwood, albeit a luminous and refined one. A hint of cinnamon and orange gives it a Turkish delight twist, while the musky sweetness of peach skin softens the woods. There is nothing obviously edible about the perfume, but a subtle gourmand suggestion gives Santal Majuscule an addictive quality. The impressive tenacity means that you will enjoy the fragrance well into the evening, but thanks to the pleasant dryness of woods in the drydown, it feels polished and radiant.
Compared to Santal Blanc and Santal de Mysore, the other two sandalwood fragrances in Serge Lutens's collection, Santal Majuscule is more approachable. It doesn't have the syrupy sweetness of Santal Blanc, and it also lacks the smoldering audacity of Santal de Mysore. Admittedly, if you already have these fragrances in your collection, Santal Majuscule may not be essential. But if you're looking for a good starter sandalwood fragrance, I can't recommend it highly enough. It is an elegant and alluring perfume.
Unlike big lush florals with their come-hither glamour, woods have a more subtle and intimate aura. For a modern day Scheherazade, who is no longer confined to a sumptuous palace, it's more appropriate. The reason I fell so hard for Santal Majuscule is because it makes me feel beautiful, without making it seem like I'm trying too hard.
Santal Majuscule Eau de Parfum is now available at Les Salons du Palais Royal in Paris and at sergelutens.com, and starting September 1st 2012 it will be sold worldwide.
Sample: my own acquisition