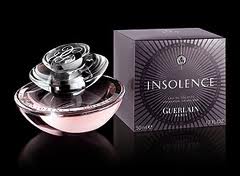 Star rating: 5 stars–outstanding/potential classic, 4 stars–very good, 3 stars–adequate, 2 stars–disappointing, 1 star–poor.
This review is for the Eau de Toilette version. Please also see my Eau de Parfum review (a superior interpretation, in my opinion.)
Guerlain Insolence is a curious study of contrasts. Upon the first inhale, the fragrance bursts into shades of Barbie doll pink, which would no doubt surprise a die-hard Guerlain lover. However, after a wild strawberry tinged 15 minutes, the composition pirouettes into an elegant heart dominated by violet, which rests on a creamy base of musk and woods. Initially, the nail polish remover sharpness of the top notes proved to be quite distracting, preventing me from making up my mind on Insolence. And yet, just when I thought that I had figured it out, Insolence managed to present an interesting facet. It revealed its Guerlain heart when given a fair trial. …
Overall, the top notes of Insolence are the least Guerlain aspect of the perfume. After all, the classical fragrances do not feature heavy fruit notes, which as Insolence's creator Maurice Roucel explained, is due to the fact that they were not considered sophisticated. A touch of peach in Mitsouko or a drizzle of plum liquor in Parure is the most one can expect from the classics. On the other hand, the hot strawberry of Insolence is vivid and persistent.
However, give it enough time, and you will discover that Insolence is still Guerlain at its core. The voluptuous woods, the soft roses and the rich iris of Guerlinade resurface as the composition dries down, even if the liquid gold of the classical Guerlain amber is missing. In Roucel's words, Insolence is his answer to Guerlain's own pearl, Après l'Ondée, which the perfumer names to be among his absolute favorite fragrances. Once the berry fizz of Insolence begins to dissipate, the cold, transparent flower–half-iris, half-violet–of Après l'Ondée begins to take form. Here, Roucel again adds his own special touch—a languid, indolic shimmer of orange blossom. Its melting warmth is underscored with a green note, which lends it a fresh touch.
Insolence is plush and curvy, revealing the seductive themes that Roucel explored in his other fragrances, from Frédéric Malle Musc Ravageur to Rochas Tocade. The parfum concentration especially heightens the seductive richness of musk and woods, while the Eau de Toilette remains more transparent. In either concentration, the fragrance is remarkably tenacious, with a strong and distinctive sillage. Certainly, while it is well-crafted, Insolence does not match the cerebral quality of Roucel's Iris Silver Mist, nor the perfect poise of Hermès 24, Faubourg, another of Roucel's gems. Still, it is young and chic, an olfactory portrait of a twenty year old girl wearing a Chanel suit. If this is what it takes to bring a new generation of customers to the Guerlain counter, I will be the first to applaud the effort (and in this case, to wear it as well.)
Insolence includes notes of violet, raspberry, red fruit pulp, rose, orange blossom, iris, tonka bean, musk and sandalwood. Insolence and select Guerlain fragrances are available from Neiman Marcus, Bergdoft Goodman, Nordstrom and Saks Fifth Avenue.