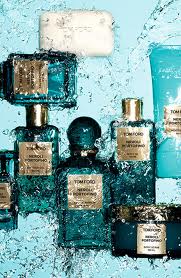 Star rating: 5 stars–outstanding/potential classic, 4 stars–very good, 3 stars–adequate, 2 stars–disappointing, 1 star–poor.
The moment I hear of Portofino, it evokes the vision of a picturesque Italian town on the Ligurian sea coast. I can also hear the waves rocking small fishing boats, the nasal sounds of the local dialect, and the general din filling a town square on a warm summer day. If I let my imagination take me further, I can even smell the bitter espresso, the rosemary encrusted focaccia from the local bakery and the dark salty sea breeze. Even though the touristy Portofino of today is miles away from the quaint fishing village it used to be, it never fails to inspire romantic fantasies. For this reason, Tom Ford named its orange blossom cologne Neroli Portofino, while Christian Dior later followed suit with Escale à Portofino.
Neroli Portofino was created in 2007 by perfumer Rodrigo Flores-Roux, and this year it has been relaunched in beautiful azure blue packaging with a collection of luxurious body products—soap, body scrub, body lotion and dry oil. The Eau de Parfum itself is a very good, if overpriced cologne. It opens up on an aromatic herbes de Provence accord (lavender, thyme, and rosemary), which when paired with the zesty bergamot gives Neroli Portofino an exhilarating quality. It has a cool, crisp character, which is retained even in the drydown. The green floral notes of neroli and orange blossom provide a soft, silky layer to the composition, while the base notes of herbal musk and woody amber lend Neroli Portofino a classical polish.
While it is impeccably crafted, Neroli Portofino does not offer anything that one cannot find in either less or more expensive colognes on the market. Chanel Eau de Cologne, Acqua di Parma Colonia and Thierry Mugler Cologne are much fuller and more interesting explorations of this genre, while Guerlain Eau de Fleurs de Cédrat, Annick Goutal Néroli, and L'Artisan Parfumeur Fleur d'Oranger offer richer orange blossom cologne interpretations. On the other hand, the body products in the Neroli Portofino range are fantastic. The soap is creamy and fragrant, while the lotion is moisturizing and nicely scented. The body oil is my favorite ancillary product, a light, silky blend that absorbs well into the skin, while leaving it radiant and nourished. While our East coast weather is far from the Mediterranean fantasy, at least I have a few more means to pretend otherwise.
Tom Ford Private Blend Neroli Portofino (fragrance family: citrus) includes notes of bergamot, lemon, mandarin, lavender, myrtle, rosemary, bitter orange leaves, jasmine, neroli, orange blossom water, woods, amber, ambrette seeds and angelica root. The Private Blend collection is available at Tom Ford boutiques, Bergdorf Goodman, and Neiman Marcus. The Eau de Parfum–$140 (50ml), $260 (100ml), soap–$35, body scrub–$80, body lotion–$65, dry oil–$70.
Sample: my own acquisition