The idea of a love potion can be traced back to antiquity, and excavations at Roman and Greek sites reveal various artifacts that were used to charm, sway and spellbind. Today we still yearn for a potion that would make us more beautiful, more alluring. So, Dsquared2, a fashion house often described as having "va-va-voom sex appeal," decided to cater to our 'earnings' and offer its own version of a love filter. Potion for Woman is the feminine counterpart to last year's Potion for Men, and is described as seductive and sultry.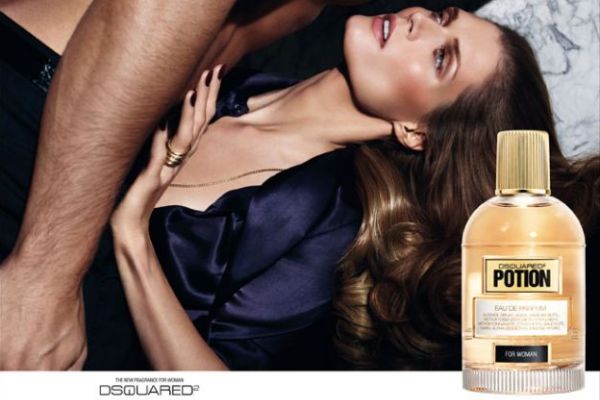 The disconnect between the promise and the execution is evident in the crass marketing image. Who on earth decided that this visual conveys anything sexy or alluring? When I'm not distracted by the hairy arm in the foreground, I'm baffled by the drunken look on the model's face. She looks more like a victim than a temptress.
But taking the marketing image apart may be a cheap shot–how many excellent and original campaigns can you point to in recent history, so let's instead see what the perfume offers. And it offers a fruity floral swirl anchored by patchouli and white musk.  It's far from a femme fatale fragrance as its name might suggest; Potion smells like a girl next door who reads  Seventeen and dreams of being a model. In fact, if you've visited your nearest mall, you've seen this girl and smelled a perfume reminiscent of Potion on her.
Trendy and commercial are the best ways I can describe Potion, which starts on a lighthearted, sparkling accord of tart berries and orange. Later, a creamy layer of vanilla, amber and musk warms up the composition. The earthy bite of patchouli paired with the candy-like sweetness gives Potion the unmistakable commercial gourmand accent. But overall, Potion reminds me of a thinner Chanel Allure.
If you like Dsquared2's sexy lace dresses, it will feel too tame. If you want a coquettish fruity floral, why not pick Cacharel Amor Amor? If you prefer something more voluptuous and like your fragrances  sweet, why not go for Allure or Guerlain L'Instant?
The engraved glass bottle is inspired by antique perfume vials, and while the look is very modern and sleek, the attention to detail is impressive. Clearly, DSquared2 put most of its efforts into the packaging, rather than the fragrance.
DSquared2 Potion for Woman includes notes bergamot, violet, blackberry, rose, jasmine, lily of the valley, rhubarb, black and white musk, black amber, patchouli and vanilla. It is available in 30ml, 50ml and 100 ml Eau de Parfum, from major retailers.