Everyone in the perfume world bristled at Estée Lauder's recent claims that Modern Muse was its first major launch since Beyond Paradise. They may want us to forget about Sensuous, but we haven't! Today, Elisa revisits Sensuous and its two flankers.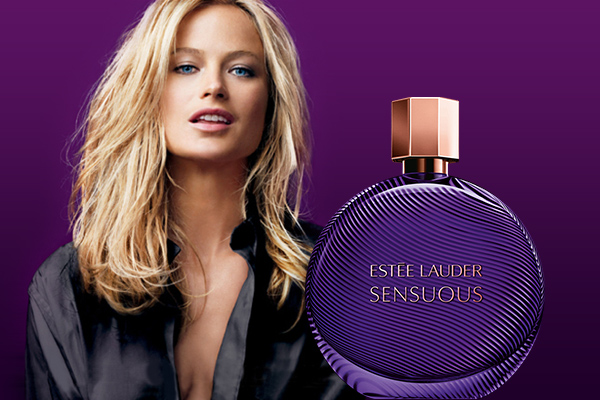 Sensuous
3 stars
Sensuous (2008) is one of those rare perfumes that is not (quite) as good as its flankers. It's almost as though Estée Lauder designed the pillar with the flankers in mind – it's a stripped down skin scent practically begging to be layered or embellished.
But simple or not, Sensuous is exceedingly comfortable and well done. It doesn't have a pyramid-style development, just a fairly linear balance between soft white floral notes (jasmine and lily), warm woody notes, and a citrusy white musk. (Note, however, that anything with vanilla smells more vanillic as it dries down.) In classic Estee Lauder style, it radiates good taste – there's a daytime-appropriate freshness you rarely see in amber fragrances, and the sweetness is restrained, never verging on gourmand.
The effect is distinctly contemporary and synthetic; no one would mistake this for real sandalwood. But if you want something basic and easy to wear, Sensuous makes a great go-to, like the white shirts featured in the advertising campaign: show some skin and accessorize at will.
Sensuous includes notes of lily, magnolia, jasmine, amber, sandalwood, black pepper, mandarin and honey.
Sensuous Nude 
3 stars
I underestimated Sensuous Nude. When I first smelled it on a blotter after its release in 2011, I dismissed it as a Coppertone clone – Coppertone smells good, but why pay perfume prices for a sunscreen scent? However, I came into a bottle when a dear perfume friend moved and pared down her collection. The thing is, a good beachy floral isn't as easy to find as you'd think, and often the good ones are prohibitively expensive, especially considering that they're not all-purpose scents.
I've come to appreciate Sensuous Nude for a simple reason: it just smells good, like warm skin. Like its predecessor, it's a simple concoction: jasmine with just enough coconut, vanilla, and musk to give it tropical flavor. It's not loud or overtly floral, so people really might mistake it for your suntan lotion, but it lasts longer and isn't sticky.
Sensuous Nude includes notes of bergamot, mandarin, pepper, jasmine, lily of the valley, coconut, honey, musk, sandalwood, vanilla, amber, heliotrope and woody notes.
Sensuous Noir
4 stars
I saved the best for last. Sensuous Noir (2010) could and probably should have been a standalone fragrance. It's richer, more distinctive, and more complex than the pillar. It starts with roughly the same base, but gussies up the top with a big, boozy plum note that reminds me of Chambord. The rest is like Sensuous, just more and better in every respect: more amber, more patchouli, better spices, better wood notes. The patchouli cuts through with the almost sour quality of very dark bittersweet chocolate. Then as it melds with your skin, it just gets more and more comfortable, like that favorite white shirt loosening up in the wash.
Sensuous Noir smells like a niche scent – this would not be out of place in the Tom Ford Private Blend collection – but available at your local department store for about $50. To boot, it's long-lasting with plenty of compliment-attracting sillage. This represents everything I love about Estée Lauder.
Sensuous Noir includes notes of purple rose, jasmine, black pepper, pine, guaiac wood, lily, patchouli, benzoin, amber, honey, and vanilla.
All three are available in 30, 50, and 100 ml bottles for $55, $65, and $90 respectively.
A note on ratings: If I could award half stars, I'd give Sensuous and Sensuous Nude 3.5 stars each (quite good), and Sensuous Noir 4.5 stars (almost a classic).