Andy's recipe for a decadent and richly scented skin treatment
Last summer, I found myself surrounded by fragrant blossoms on a trip to the Florida Keys. By the time I came home, I simply could not take my mind off all of the gorgeously fragrant flowers I had experienced. All of a sudden, I was in search of something to preserve my memories of endless sunshine and clear, warm waters, and to my great fortune, I stumbled upon monoï.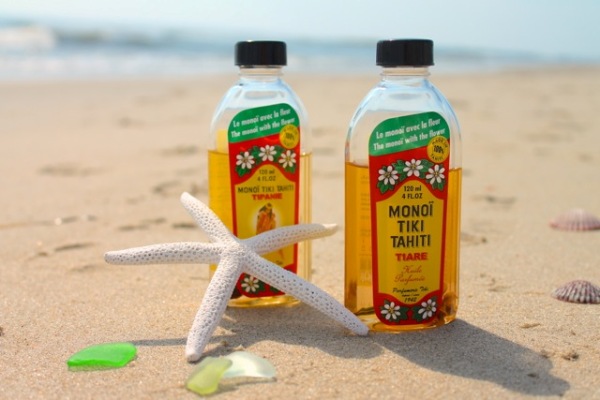 Monoï is a handcrafted creation from Tahiti, made by infusing coconut oil with fresh tiaré (Gardenia tahitensis) blossoms. When the velvety white petals are infused into coconut oil, the result is an exquisitely perfumed beauty elixir that smells like a night in paradise.
The small white flowers used to make monoï grow on evergreen shrubs native to the South Pacific, and as a relative to the grand Gardenia jasminoides that has inspired countless perfumes, tiaré is often likened to the gardenia in scent. Much like its richly scented "cousin," tiaré emits a heady, white floral perfume, though it lacks some of the distinctive green accents of gardenia. Still, the scent is no less intoxicating, and as I take a long inhale from a bottle of monoï, it is easy to see why the people of Tahiti have used this special formula as a part of health and beauty preparations for countless generations.
Even if you have never heard of monoï, the creation of this fantastic oil is worth attention, as it mirrors the bygone perfumery technique of enfleurage. In this traditional method, fresh flowers like jasmine are layered repeatedly with fat, which absorbs the fragrance of the blossoms. While enfleurage may no longer be a popular technique in modern perfumery, using monoï is a chance to get an idea of the lush floral bouquet that can result from infusing a neutral oil with fresh, fragrant flowers. In this case, light and delicate coconut oil readily accepts the lush perfume of tiaré—the two are a match made in heaven.
Of course, the uses for monoï are various, as you can use it on your body just like regular coconut oil. Coconut oil is a light, quick absorbing oil, so monoï is great for massaging all over the body before swimming to protect from drying sea or pool water. Monoï gives skin a natural, luminous radiance and an alluring fragrance, so I like to apply it lightly to my arms and legs before going out to summer parties and events. It gives my skin an extra-special glow and tropical scent, two benefits that I can appreciate equally. In addition, monoï can also be used as a moisturizing, deep conditioning hair treatment. Even on my short, fine hair, a few drops of monoï combed through before I go swimming seem to help keep my hair from the damaging effects of a day in the sun and surf. And for baths, a few teaspoons of monoï in the water adds moisturizing benefits as well as a lovely scent.
Nonetheless, of all my uses for monoï, my favorite is the scrub recipe I've included below. Easy to make, this scrub is perfect for summer, or any time of year when your nose and skin crave a touch of paradise.
Shopping for Monoï
When buying monoï, look for the Appelation d'Origine certification on the label to ensure that what you are buying is authentic. This certification ensures that your monoï was manufactured using real tiaré flowers and is not simply oil with added fragrance (unfortunately, counterfeit monoï is quite common).
Due to availability and the reasonable price, I like Monoi Tiaré Tahiti's products, and recommend them to anyone who is trying monoï for the first time. I use this brand's monoï, and while I would like to try others, the prices have kept me away (after all, I like to use monoï generously in the summer!). There are many other smaller brands that offer an extremely fine product, but the high quality is often reflected in higher prices.
Tropical Monoï Body Scrub
This recipe makes enough for one all-over application. I like to use a mixture of different sugars and sea salt for texture, but feel free to use any one or a combination of similar ingredients to make your scrub. If you would like to make a larger quantity in advance, it should be kept in a clean jar in a cool, dark place, where it will stay fresh for several weeks. In this case, measure out approximately 2-3 tablespoons of this scrub for each use.
1 Tablespoon sea salt
1 Tablespoon raw (turbinado) sugar
1 Tablespoon granulated sugar
1 teaspoon monoï
1-2 teaspoons glycerin or honey
Mix all ingredients together, adding glycerin or honey until the scrub reaches your desired consistency. Use immediately, or store as directed.
To use, spread the scrub evenly over damp skin after a shower, focusing on dry or rough patches. Of course, be careful around delicate or sensitive areas. After massaging thoroughly, rinse off, and pat skin dry. The scrub will leave your skin exquisitely scented, lightly moisturized, and luminous, so feel free to use as often as once a day. Alternatively to using this as an all-over body scrub, this also makes an excellent treatment for tired, lackluster feet or hands. Enjoy!
Extra: Rose and Vanilla Treatment :: Perfumes with Monoï Notes
Have you ever used monoï oil? Let me know if you have any favorite perfumes that use this note.
In Europe, you can find monoï oils at the pharmacies. Klorane Monoï Beauty Oil For Body and Hair (Huile de beauté corps & Cheveux au Monoï Morinda Les Polysianes), 11.50 €/125 ml. In the US, look for them at the New London Pharmacy, health food stores and at Amazon.com. Certified monoï products are also available at www.monoi.com.