If a brand promises a separate product to extend the lasting power of its perfumes, it's either a sign of a gimmick or technical problems with its fragrances. That being said, if your skin is dry, then you might notice scents vanishing quickly, but this trouble is solved by any good drugstore moisturizer. Where does it leave Crème Pour Le Corps Les Exclusifs de Chanel, Chanel's rich body cream designed to be layered with the fragrances from its Les Exclusifs collection? It's not quite a dull gimmick, but it's not an essential product either.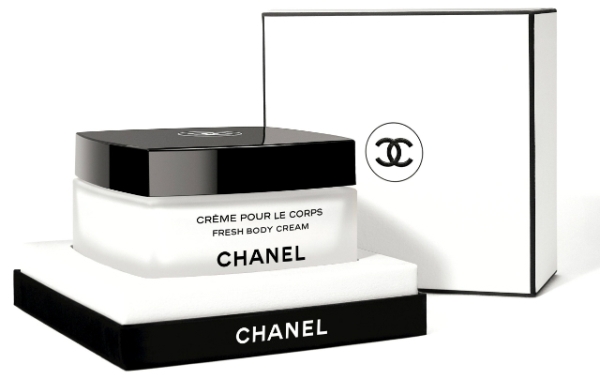 Crème Pour Le Corps is an excellent moisturizer, and if your budget has space for a $130 body cream, then by all means, try it for that reason alone. The cream absorbs instantly, but it leaves my skin soft for hours, always a plus. On the other hand, there are wonderful products available from Avène, La Roche Posay, Eucerin, and Ren, and I'm not a big fan of jar packaging; for hygienic reasons I prefer tubes or pump dispensers.
The only reason I'd possibly consider Crème Pour Le Corps would be its purported ability to make the ethereal 28 La Pausa wear like iron. I think of 28 La Pausa as an iris cologne, and I use it lavishly as such, but at times I really wish this tender blend of iris, mellow woods and musk wouldn't vanish so fast. Which is why I decided to experiment by layering it with Crème Pour Le Corps. I've undertaken said experiment with my usual geeky pedantry scientific precision. I've applied a layer of cream on one arm and added two sprays of 28 La Pausa. My other arm received just two spritzes of La Pausa, without any cream. I waited and sniffed my arms intermittently.
On its own Crème Pour Le Corps has a floral musky aroma, and just as its English name suggests, it's fresh. There is a citrusy note reminiscent of lime zest softened in tea and a hint of watery jasmine. If you use it all over the body without any other perfume, it's subtle (think Jo Malone cologne-like presence). I'm not sure if it's worth the high price tag, but the cream smells very elegant.
Layered with 28 La Pausa, the cream does a good job supporting the delicate iris notes of this notoriously fleeting perfume. The musk is subtle at first, but after a few hours, La Pausa's iris vanishes, and musk becomes more pronounced. Compared side by side, La Pausa is more tenacious with a cream layer, but I achieve the same effect if I just reapply the perfume. The cream is more interesting with Gardénia, Beige and No 22. While Cuir de Russie requires no layering to make it last on my skin, a touch of floral musk is a good addition.
The next stage of my experiment was to compare the lasting power of 28 La Pausa + Chanel cream and 28 La Pausa + Eucerin Daily Replenishing Moisturizing Lotion. Eucerin's lotion is one of my favorite fragrance-free moisturizers. It's emollient, fast-absorbing and even contains a small amount of antioxidants and Vitamin E. 28 La Pausa lasts the longest with Chanel's cream, although I suspect that it's mostly due to the musk from the cream, but it lingers really well with Eucerin. Eucerin retails for $6.99, making my final decision even easier.
Crème Pour Le Corps Les Exclusifs de Chanel (Fresh Body Cream) retails at $130.00/94 € for a 150 g jar. Available at Chanel boutiques and counters.