Andy invites us to share a cup of tea.
I'm never really sure autumn has begun until I can smell the fallen leaves. Even as the trees begin to shed their green coats, sporadic warm days and bright sunshine deliver teases of summer. Nonetheless, once the leaves begin to tumble, so fall the tea leaves into my cup, and when dried foliage starts to crunch underfoot and release its crisp perfume of vetiver, myrrh, and scorched citrus peels, I know I'm in another season. Much in the way I select a perfume to wear, I often tailor my choice of tea to harmonize with the seasonal scents that naturally color my day. Whether you wish to reflect the time of year in your teacup or simply want to experience a taste of fall wherever you are, below are some of my favorite autumnal teas.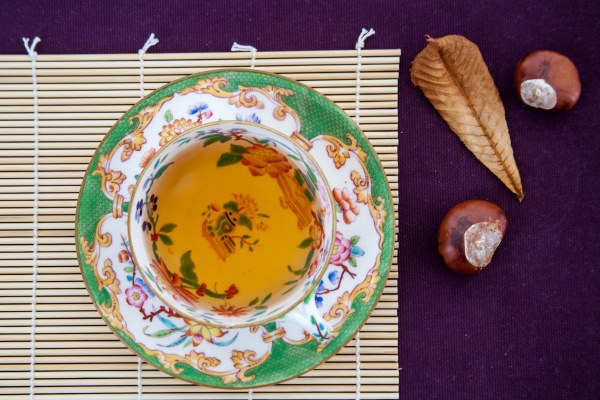 The Art of Tea Caramelized Pear
I never would have believed a tea could deliver on a promise as specific as caramelized fruit, but this offering by Art of Tea actually does. The real wonder lies in a pear flavor married perfectly with the toasty softness of rooibos, so as to create the effect not merely of pears, but those slowly baked in the oven and glazed with golden sugar. This herbal tea is an indulgent choice, but even a sometimes tea-purist like myself can appreciate the autumnal embrace of this comforting cup.